Asking Basic Questions
StatMuse is great; and like other great experiences in life, it's even better if you know what you're doing.
With that in mind, we present the first entry in our StatMuse NFL tutorial series to help you get a grasp of the many aspects and abilities of the StatMuse platform, starting with asking basic questions. The NFL platform works similarly to the NBA and MLB versions, but even seasoned veterans may need a few tips and suggestions for getting the best answers from football stats that stretch all the way back to the first games in 1932.
(Stats included are accurate as of the date of publication. Results may have since changed.)
Select the Right Sport
With multiple sports available, it's important that you select the appropriate sport since it's really hard to hit a home run in the NBA or score a touchdown on a baseball diamond. Our homepage will default to a sport that is in-season, but if you ever need to switch sports, simply click the toggle in the upper left-hand corner.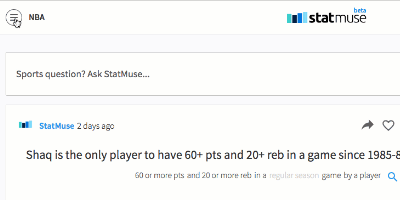 Ask a Question — Be Specific
StatMuse is like a search engine in that you type in a question and it returns an answer. However, instead of sending you to a webpage that includes the answer buried somewhere within, you get it directly with an instant visualization. Keep in mind that specificity is the foundation of a good StatMuse question. It's not a Kubrick film; it shouldn't be left open to interpretation. Be as specific as possible in your questions to get the most accurate answers.
Player vs. Team Stats
Suppose you want to know who has the most touchdowns in a game, so you ask "Most touchdowns in a game?" The problem with that is StatMuse doesn't know based on that query whether or not you want to know "Most touchdowns by a player in a game?" or "Most touchdowns by a team in a game?" StatMuse assumes you meant "Most touchdowns by a player in a game?" and that the game in question is in the regular season and adds both to your search to show you the answers being returned: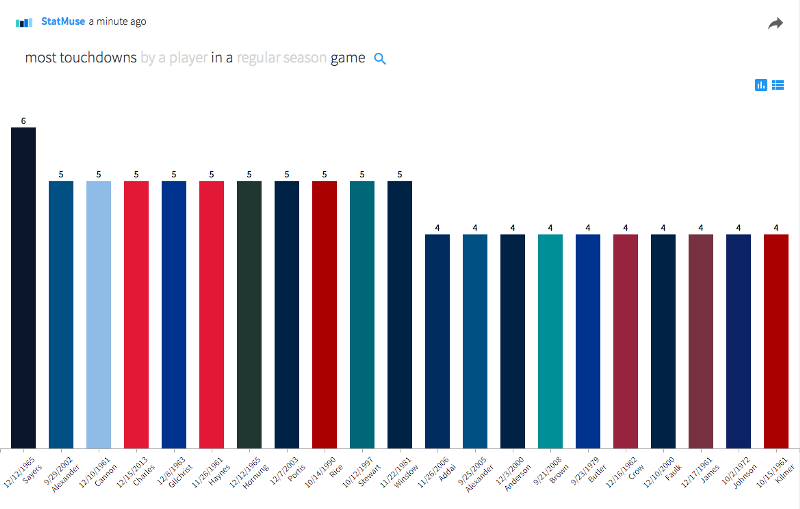 Here we see the great Gale Sayers racked up six total touchdowns in a game in 1965. At the bottom of the included data table, we list how far back our data goes for a specific stat category. For this question, since it asks about general touchdowns, the data goes back to the 1960 season.

To change the results from player to team, simply specify "Most touchdowns by a team in a game" in the question to find out that the 1966 Redskins are the only team to score 10 touchdowns in a game. Likewise, you can change "in a game" to "in a season" to see that the Broncos scored a record 76 TDs in 2013.
Yet, these complications can be avoided by asking questions with a proper grammatical structure. StatMuse isn't Jeopardy, so you don't have to phrase it in the form of a question, but it generally helps to construct your StatMuse questions like you would any other. So asking something like "Who scored the most touchdowns in a game?" or "Which team scored the most touchdowns in a game?" can help return more accurate answers.
Same Word, Different Category
If we look through the data table in the question above for most touchdowns by a player in a game, we see that Dub Jones, owner of the most football-player-sounding name of all-time, got into the end zone six times thanks to four rushing TDs and two receiving TDs.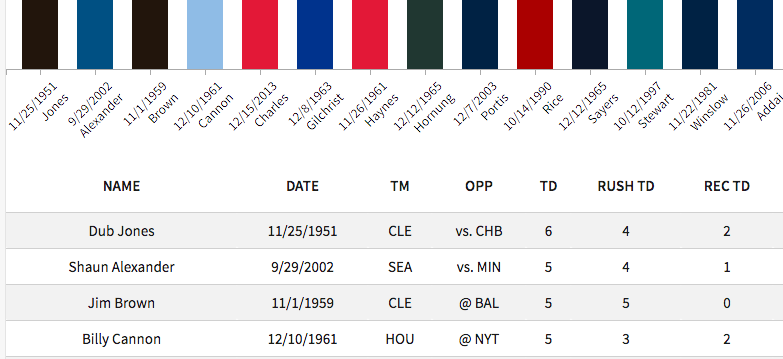 Touchdowns may all be worth six points, but there are several ways to attain them — from rushing and receiving to passing, returning, interceptions and even fumble recoveries. That's why it's important to be specific in how you ask StatMuse questions. If you're not looking for rushing TDs, then change "Who scored the most touchdowns in a game?" to "Who scored the most receiving touchdowns in a game?"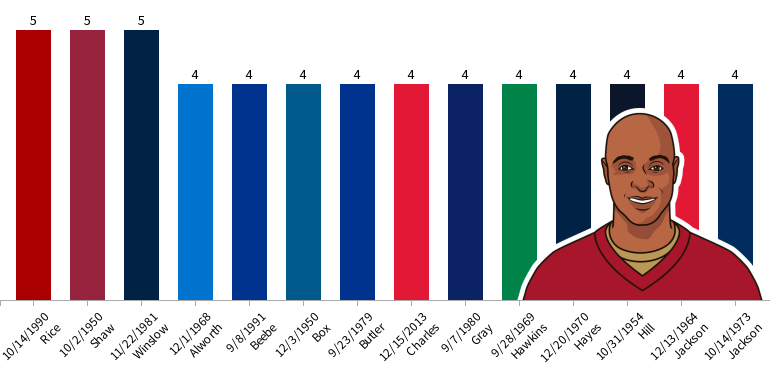 If quarterback stats are what you need, specifically ask "Which quarterback had the most touchdowns in a game?" or "Who has the most passing touchdowns in a game?"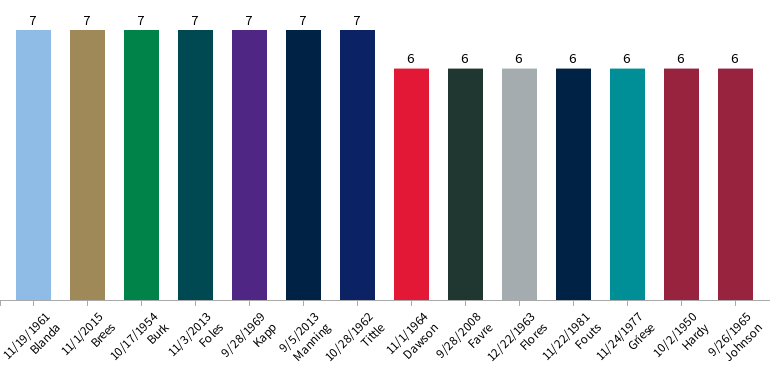 Since StatMuse organizes ties alphabetically, George Blanda heads the group of seven quarterbacks who've thrown seven touchdowns in a game since 1950 (the earliest date for which StatMuse has game-level stats). However, quarterbacks don't just throw touchdowns — especially in today's NFL. Luckily, StatMuse allows you to combine positions and stats so you can ask more complex questions like "Which quarterback has the most rushing touchdowns in a season?"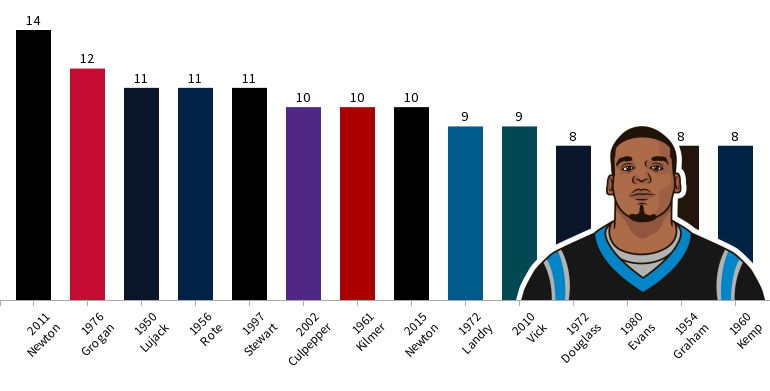 Take the same approach when searching for yards, since asking "Who had the most yards in a season?" will return a non-quarterback's total rushing, receiving, and return yards, making Darren Sproles' 2011 campaign come out on top.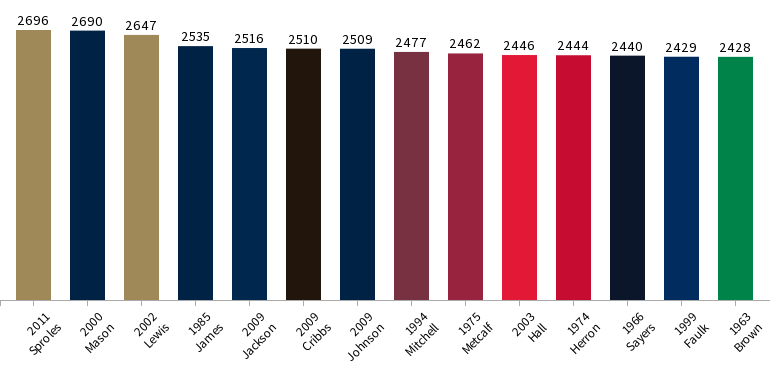 However, if you don't care about return yards and just need to know the best single-season rushing performance, specify "Who had the most rushing yards in a season?" If you want rushing and receiving yards, take advantage of the StatMuse math engine and add them together with "Who had the most rushing yards + receiving yards in a season?" Or use the shortcut "most yards from scrimmage in a season" to get a reminder of the short-lived CJ2K era.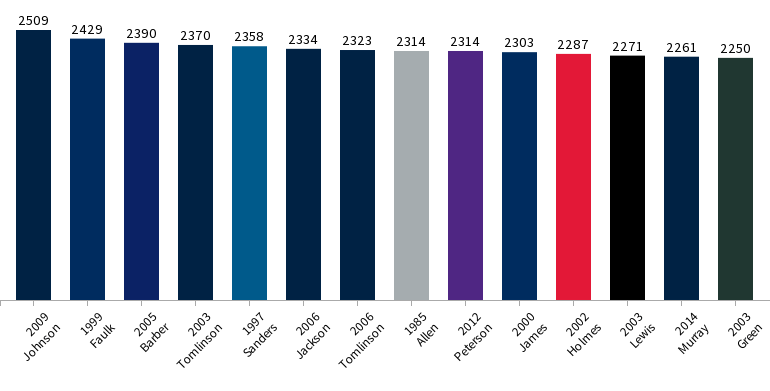 Same Name, Different Player
Since several players have the same last name, asking questions with last name only may not give you the answer you need. For example, if you ask "What are the most passing touchdowns in a season by Manning?" you'll get results for Peyton, his brother Eli, his father Archie and even Mannings outside of football's first family like Danieal, Pete, Ricky, Rosie, Roy, Terrell and Wade. Who knew the NFL had so many Mannings? If the elder Manning brother is the one you want, you'll need to specify Peyton Manning.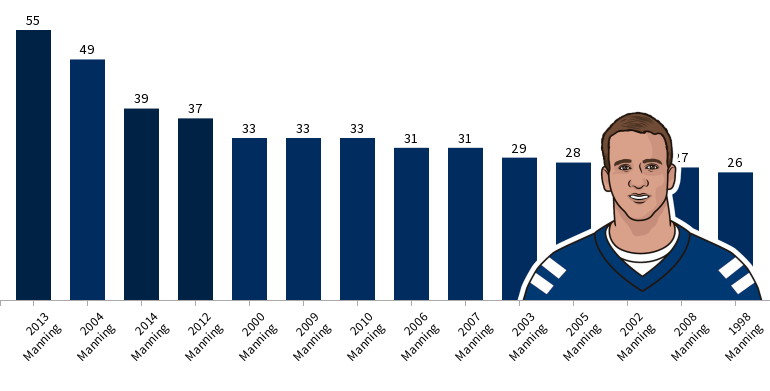 Know Your Limitations
Did you know Lionel Vital is the most prolific rusher of all-time? Numbers don't lie. He averaged 115.3 rushing yards per game, higher than any other player in NFL history.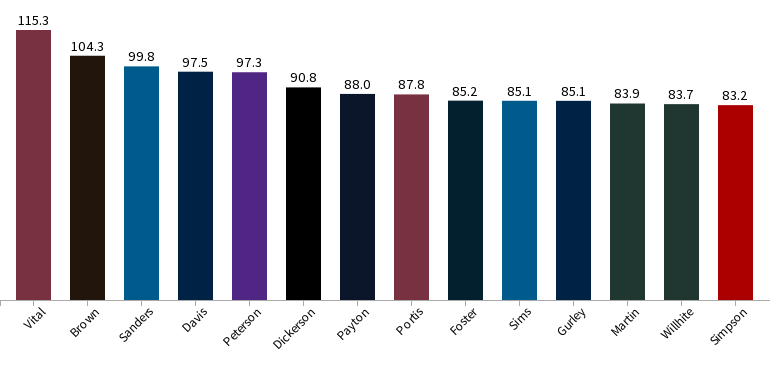 However, if you look at the data table, Vital put up these lofty numbers in just three career games. Three good games does not a legend make. To get a better idea of leaders in stat categories that are calculated on a per game, per season or per anything basis, you can set a minimum to filter out players whose lack of experience eliminates them from true contention.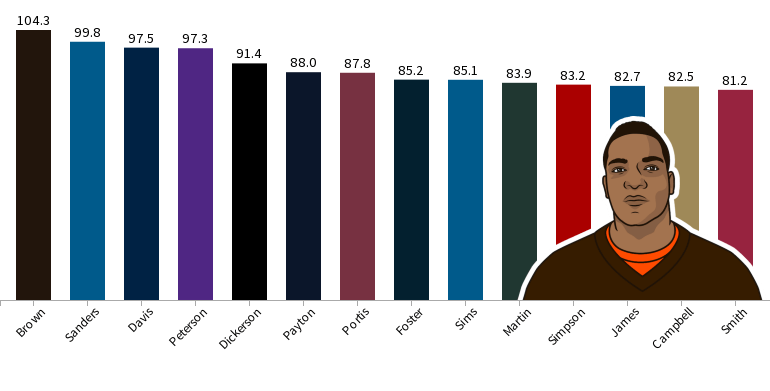 By setting a 50-game minimum, the legendary Jim Brown takes his rightful place atop the list. And even though StatMuse doesn't yet support stats for aliens punched in Tim Burton movies, once it does, Brown will be on top of that list as well.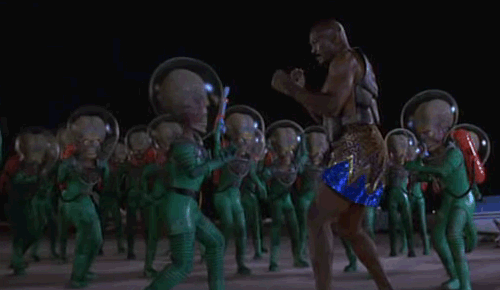 Abbreviate Approp.
StatMuse can easily interpret abbreviations to make asking stats questions as easy as possible. You can save valuable stat-searching seconds by asking "What are the most ATT by a RB in a season?" instead of typing out "What are the most rushing attempts by a running back in a season?" But just like you can get an unwanted response by referring to a "Ms." as a "Mrs." you can also get unwanted responses by using the wrong abbreviations in StatMuse.
Suppose you want to know which player caught the most passes in a single game, so you try to get fancy and ask, "What are the most recep by a player in a game?" thinking for some unknown reason that "recep" is the abbreviation for "receptions." You won't get the answer you seek because despite all its power, StatMuse can't interpret nonsense. Use "REC," the official abbreviation for "receptions," and watch the stat magic happen.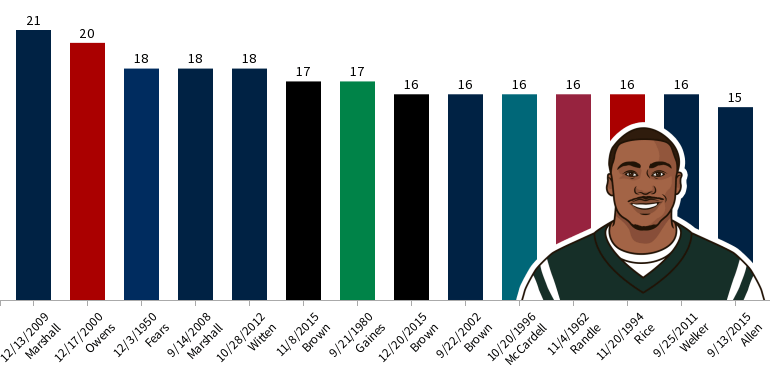 For a complete breakdown of every NFL stat supported on StatMuse and the appropriate abbreviation for each, check our our Football Statistics Glossary.
StatMuse Football Statistics Glossary
A listing of football stats that are searchable on StatMuseblog.statmuse.com
Dig Deeper
Now that you know how to ask simple questions, let's expand your statistical horizons.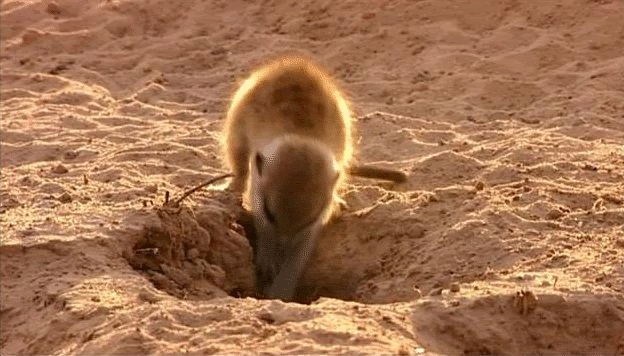 Expanded Questions
You can build onto a simple question to narrow down your answers. Start with the question above about the most receptions in a game and see which of those performances came at home by asking "What are the most receptions by a player in a game at home?"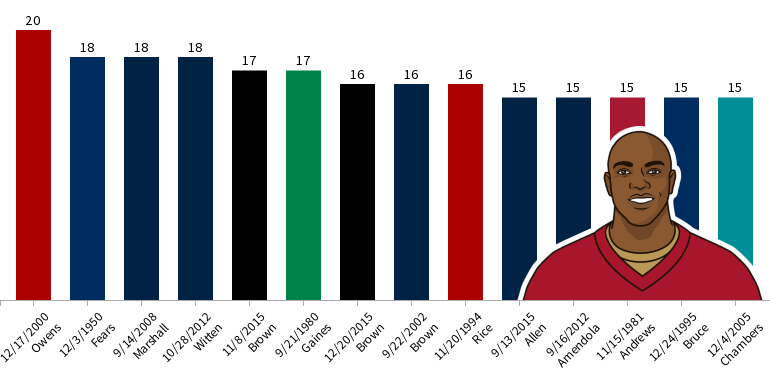 Since Brandon Marshall's 21-reception performance came on the road, T.O.'s 20 receptions in 2000 at the now-defunct Candlestick Park takes the cake as the best single-game reception total in front of the home crowd.
Multiple Variables
Sometimes it's not enough to ask about just one stat at a time. So Marshall and Owens each had games with 20 receptions? Who cares? How many touchdowns did they score? If you're the type of person who needs to marry receptions and touchdowns in a single glorious search, then you've come to the right place. Find out who grabbed the most passes in a game in which he also scored three or more touchdowns by asking, "What are the most receptions by a player in a game with at least three touchdowns?"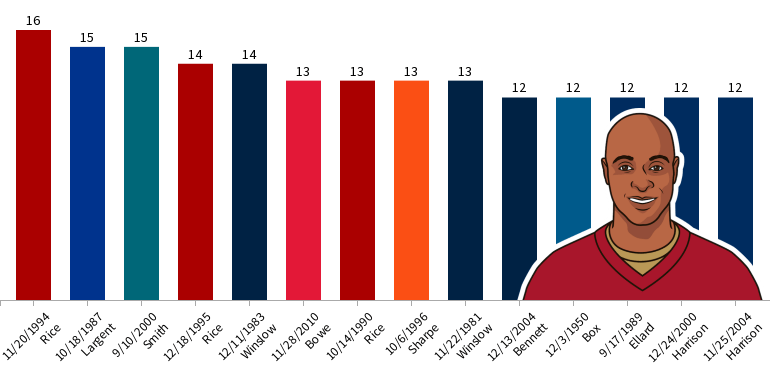 Since Brandon Marshall was only able to grab two touchdowns in his 21-reception performance, the GOAT Jerry Rice takes the top spot thanks to his 16-reception, three-touchdown game in 1994. Take this a step further by limiting the games to the postseason with the addition of "in the playoffs."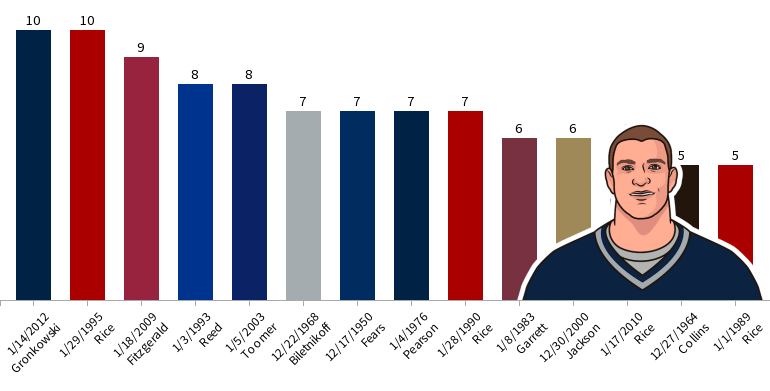 Rice is still the king with a 10-reception, three-touchdown playoff game in 1995, but now he's joined on the throne by GRONK! Dig even deeper by specifying that you only want to know who's pulled this off against the Broncos and you'll get an instant answer to an extremely complicated question that's again headlined by Gronk and Jerry.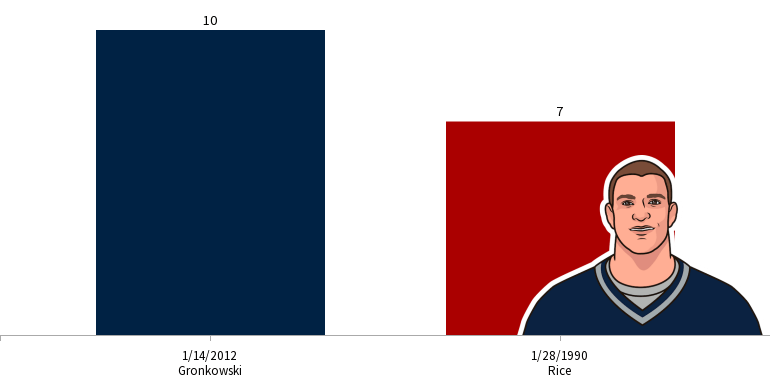 Database Updates
Our database updates a few minutes after a game has finished. If you're upset that a game's stats aren't showing up immediately, we love your passion, but please wait for just a little bit. They'll be there soon.
Try It Yourself
Now that you've seen some of the basic NFL questions you can ask StatMuse, it's time to put your knowledge into practice. Log in to StatMuse and ask some of these questions yourself. Or come up with your own questions.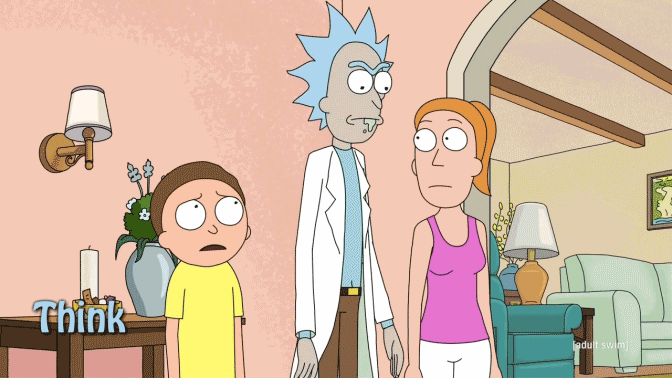 If you're still not quite ready to execute your own searches, you can see some of the best questions asked recently on the homepage. If you need any help, click on the live chat icon in the bottom right-hand corner or send us a message on Twitter and we'll answer any questions you may have. We also have a list of examples of questions you can ask to help set the perfect lineup for your fantasy football team.
Our NFL platform will continue to expand in the coming weeks and we'll add additional updates and tutorials to make sure you're up to date on the latest StatMuse has to offer.