Asking Postseason Questions
StatMuse is great; and like other great experiences in life, it's even better if you know what you're doing.
With that in mind, we present the second entry in our StatMuse MLB tutorial series to help you get a grasp of the many aspects and abilities of the StatMuse platform. While the first tutorial focused on asking questions about basic stats, we're continuing the series by showing you how to ask questions about postseason stats. The MLB platform works similarly to the NBA and NFL versions, but even StatMuse veterans may need a few tips and suggestions for getting the best results from baseball stats that stretch back as far as 1876.
(Stats included are accurate as of the date of publication. Results may have since changed.)
Playoffs In Their Entirety
The MLB season doesn't really begin until after the 162nd game ends. Teams push through the summer months for a chance at glory in October and November. Every pitch brings held breath, every swing the chance to define a legacy. You can ask questions to see how a player or team performs in this intense month-long period in much the same way as asking questions about regular season stats, the only caveat being adding the phrase "in the playoffs" or "in the postseason." The two words can be used interchangeably to refer to the entirety of a single run or the sums and averages of multiple seasons. For example, you can get the postseason's all-time hit king by simply asking "Who has the most hits in the playoffs?"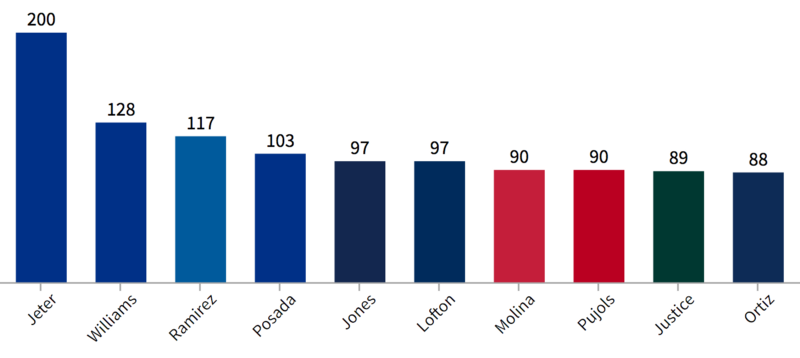 So Mr. November has the most total hits across his multiple postseason appearances, but does he have the most hits in a single playoff run? That can be found by specifying "in a season" in your question or even more quickly by changing "in the playoffs" to "in a playoffs."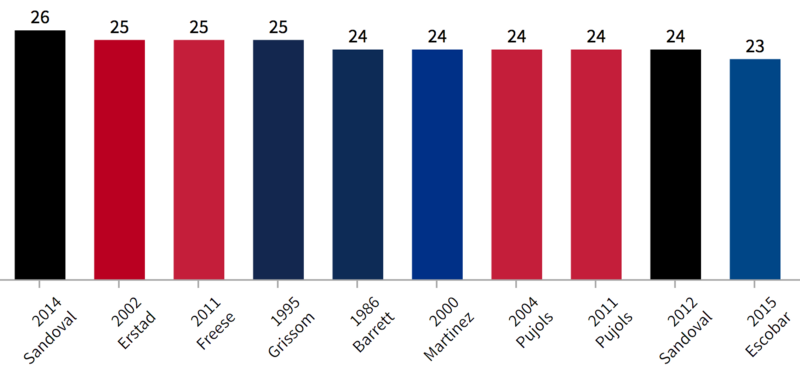 Wild Card Round
We're not here to debate the value of a one-game play-in to reach the playoffs. Love it or hate it, stats from the Wild Card round are supported in StatMuse. To get totals from every game played in the Wild Card round, just ask for specific stats and add "in the Wild Card round"or just "in the Wild Card."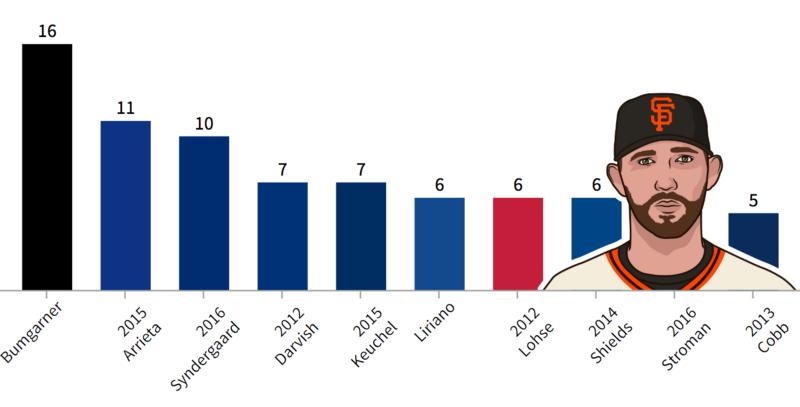 To narrow down to a specific Wild Card game, just add "game" to your question.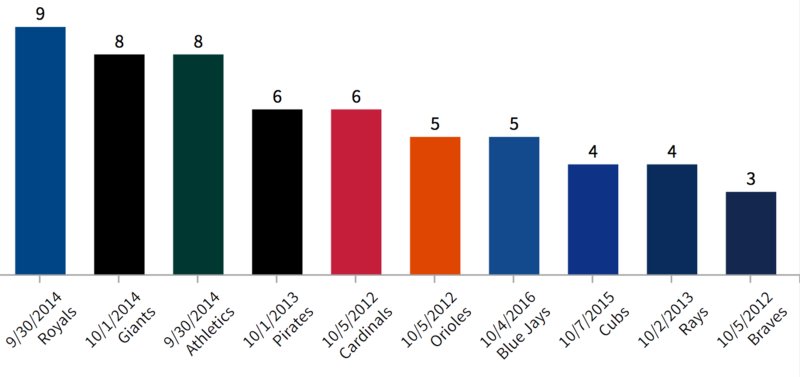 Division Series
If you're more into multiple-game series, we've got you covered. StatMuse will answer questions about the Division Series overall or even by a specific league. If you want to know which team had the biggest win in Division Series history and you don't care which league it occurred in, just ask the question like usual and include "in the Division Series."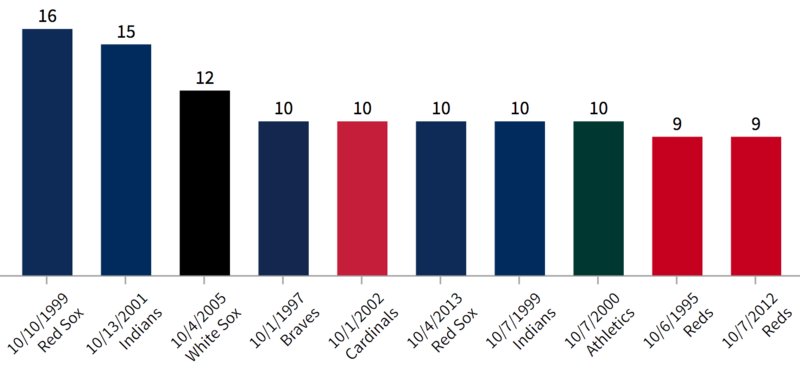 If you despise the designated hitter and only want results from the National League, just say so. Ask about the highest OPS in the National League Division Series and see why Carlos Beltran is a postseason legend.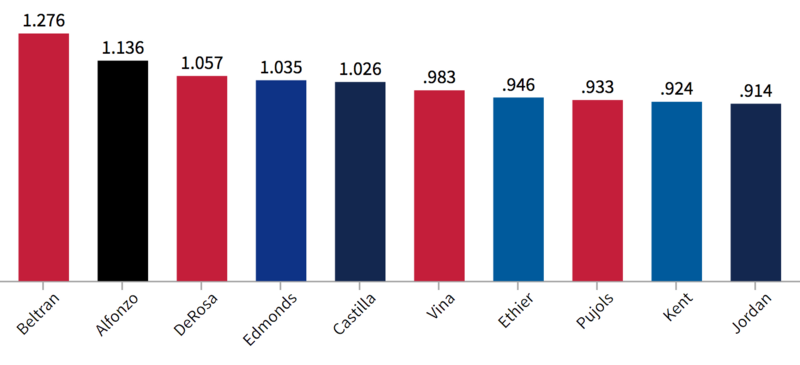 But you may be thinking, "National League Division Series' is a lot to type and typing is for suckers." While we'd never call our typing-inclined users "suckers," we do want your question asking process to be as easy as possible, so go head and switch out "National League Division Series" with "NLDS."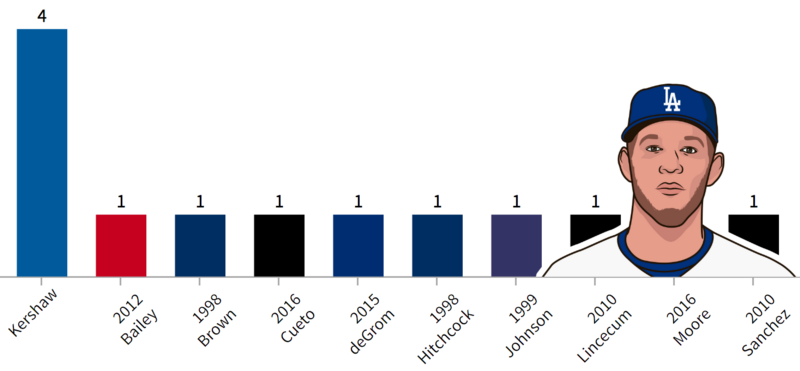 Championship Series
Likewise, you can ask questions specifically about players, teams or games in the National League and American League Championship Series. Mets fans can relive Daniel Murphy's incredible power surge in the 2015 NLCS by simply asking which player from their team hit the most home runs in that specific series in a single season.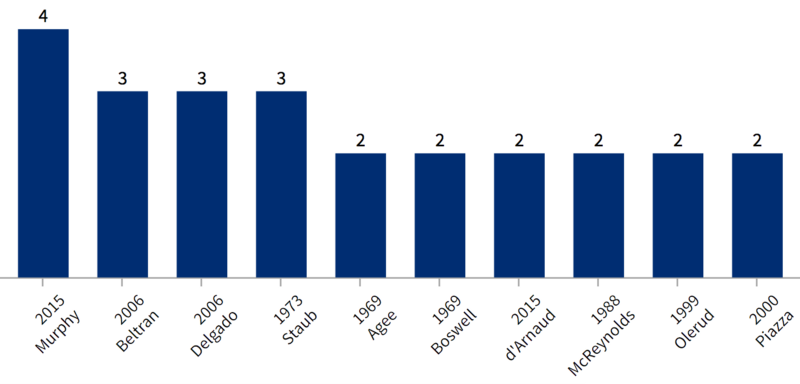 If you're more into the New York team from the Bronx and want to find a way quantify your team's most dominant single-season starting pitching performances in the ALCS, ask something like this.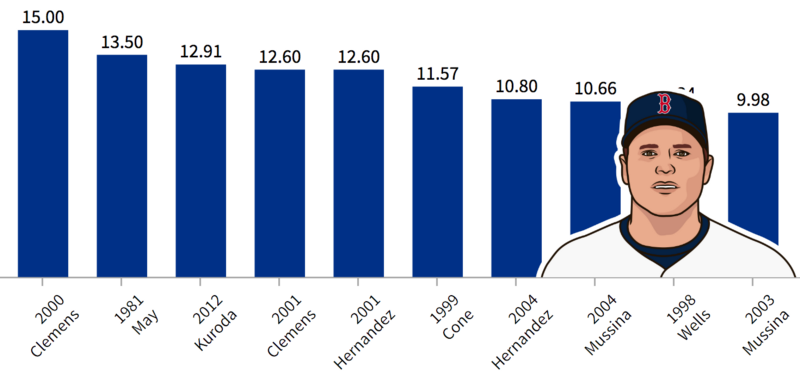 The World Series
Finally, you can easily ask questions about stats spanning the history of the Fall Classic. Of course, if you're a Yankees fan you'll really enjoy asking questions here because you don't have to try hard to find either the team or one of its players at the top of a list.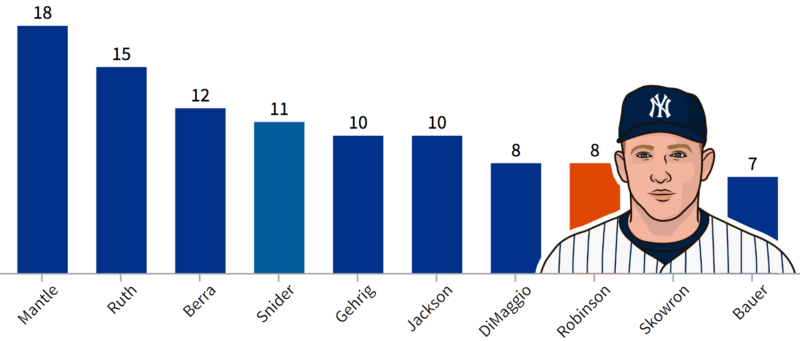 The Yankees also have the top home run hitter in a single World Series. Even though his mark was eventually matched by Chase Utley, Reggie Jackson definitely earned the "Mr. October" nickname.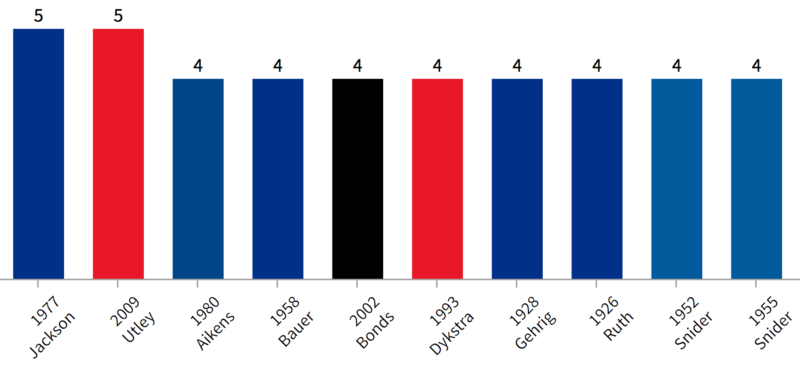 Of course, Reggie did the bulk of that damage in his historic three-homer-game in 1977, but the Yankees' World Series dominance even extends to three-homer-games with three of the five instances coming via the bats of the Bronx Bombers.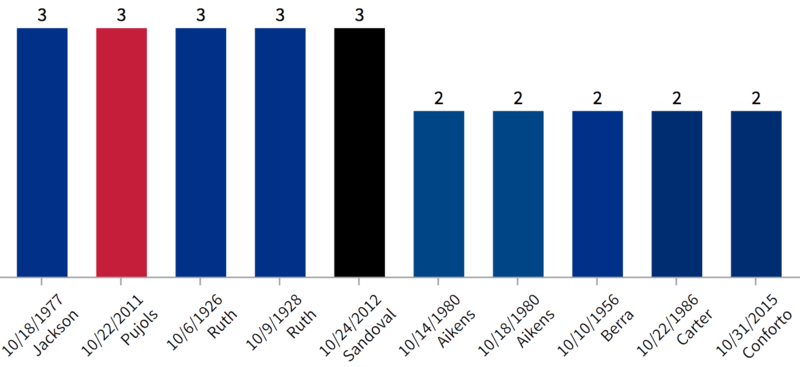 However, fans of other teams may not get the same satisfaction since it's just as easy to find numbers that illustrate how some teams didn't fare as well on baseball's biggest stage.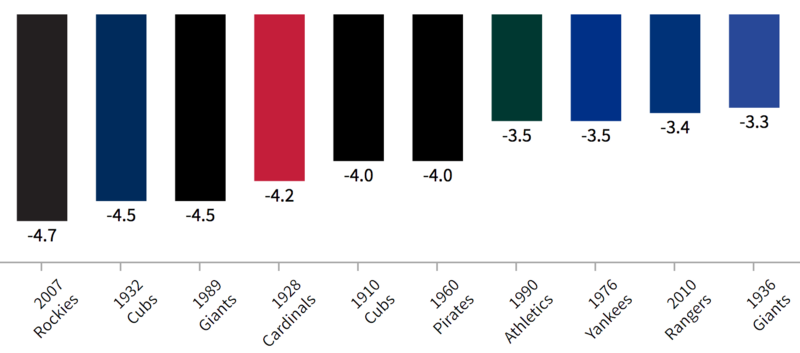 Try It Yourself
Now that you've seen some of the MLB postseason questions you can ask in StatMuse, it's time to put your knowledge into practice. Log in to StatMuse.com and try some of the above questions yourself. Or come up with your own questions.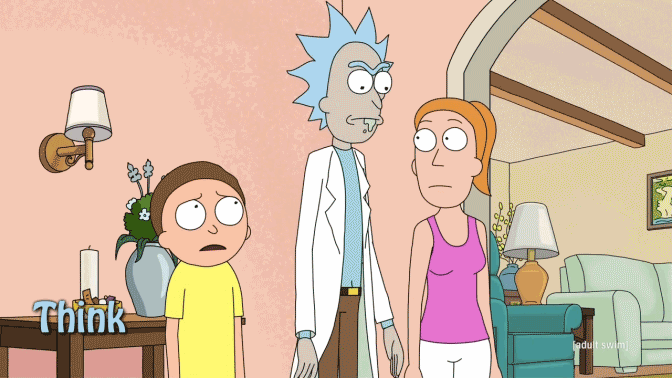 If you're still not quite ready to ask questions yourself, you can see some of the best answers shared recently on the homepage. If you need any help, click on the live chat icon in the bottom right-hand corner or send us a message on Twitter and we'll answer any questions you may have.