The Long Tradition of Tampering in High-Scoring Games
In the latest Stat Stories episode, Chad Shanks and Justin Kubatko break down Devin Booker's historic 70-point performance and address the criticisms that it was only possible due to his team manipulating the end of the game to give him additional scoring opportunities, revealing the NBA's long tradition of teammate tampering in high-scoring games.
Listen to the embedded audio and browse through the StatMuse stats mentioned in the episode (data accurate as of the date of publication).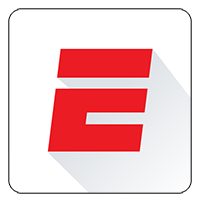 Booker by the Numbers
The Suns' 20-year-old phenom shocked the world when he dropped 70 points in a road game in Boston. It's not that he hadn't shown flashes of brilliance before, but 70 points?!?!? He became just the sixth player in NBA history to reach that mark.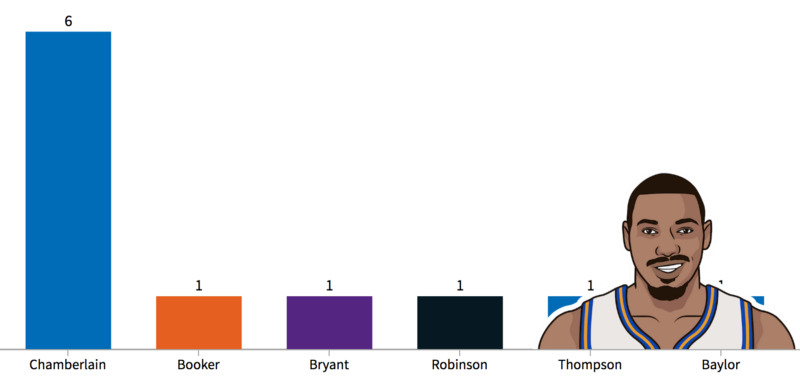 Booker's 70 points are the most by a player in a game since Kobe Bryant's incredible 81-point performance in 2006.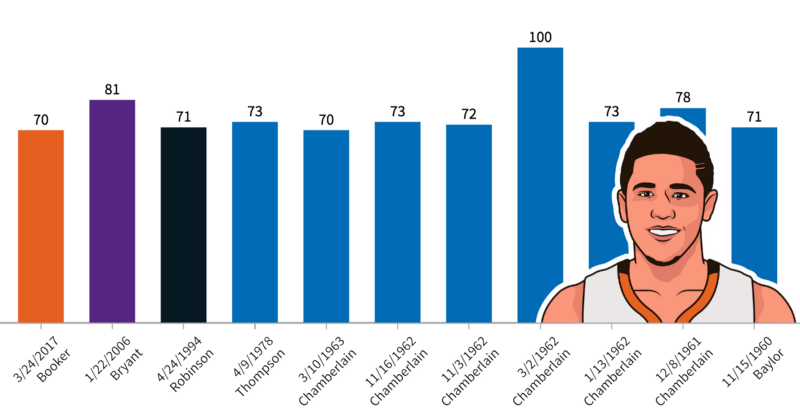 He beat Tom Chambers' Suns' single-game record by 10 points. Coincidentally, both games occurred on March 24 — just a mere 27 years apart.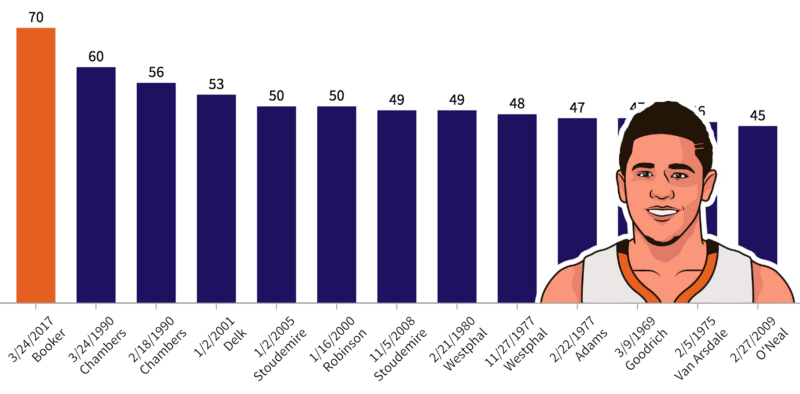 Booker's previous career-high was just 39 points. His 31-point jump represents the biggest such increase in a player's new career-high in NBA history.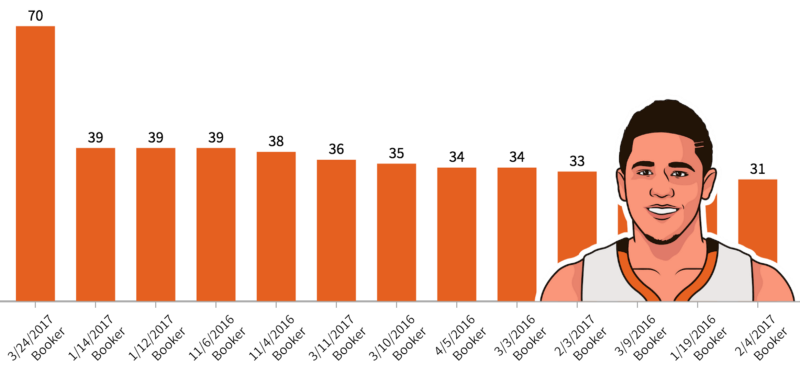 In addition, he joined Wilt Chamberlain and Michael Jordan as the only players to ever have at least 20 field goals made and 20 free throws made in the same game.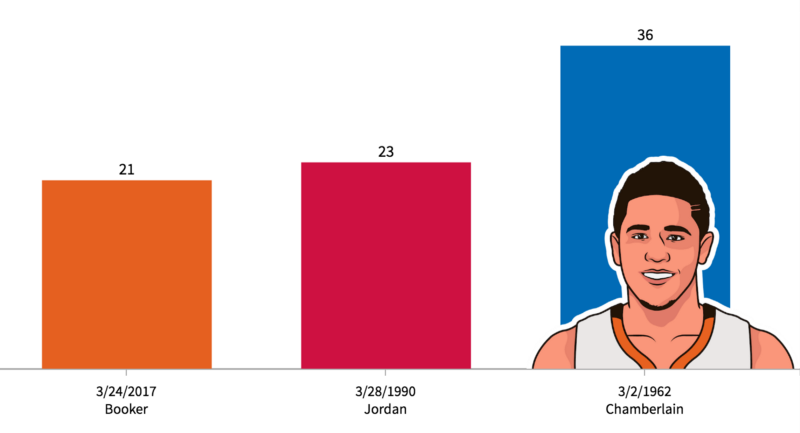 Since the Suns were unable to get the win, despite Booker's heroics, he joined David Thompson and Wilt Chamberlain as the only players with at least 70 points in a loss.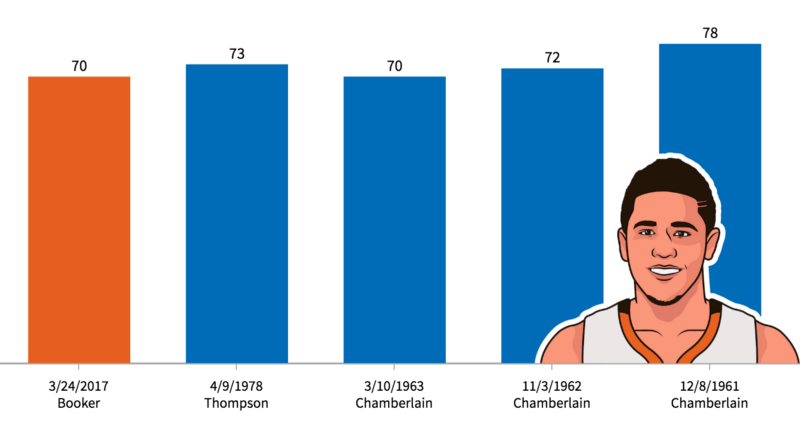 The Ricky Davis Scale
In order to rank performances by the level of manipulation that went into their achievement, we turned to the godfather of manipulated statistical accomplishment, Mr. Ricky Davis, whose pursuit of his first career triple-double reached new levels of stat padding shamelessness.
Davis had two additional games where he notched double-digit points and assists, but never grabbed that elusive tenth rebound, so he finished his career without the triple-double he wanted so badly.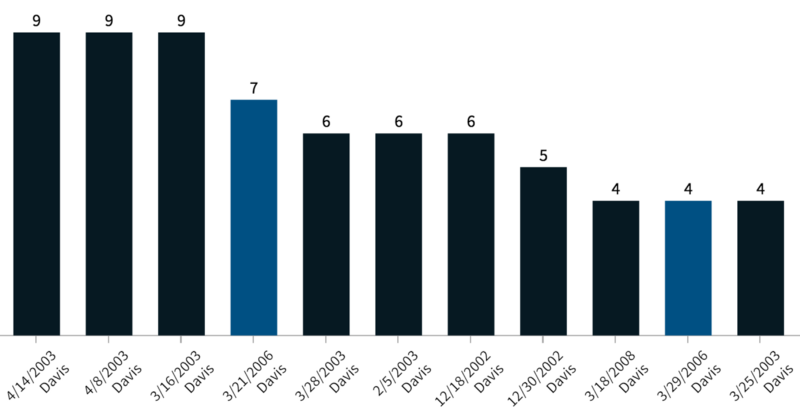 Wilt Chamberlain's 100-point Game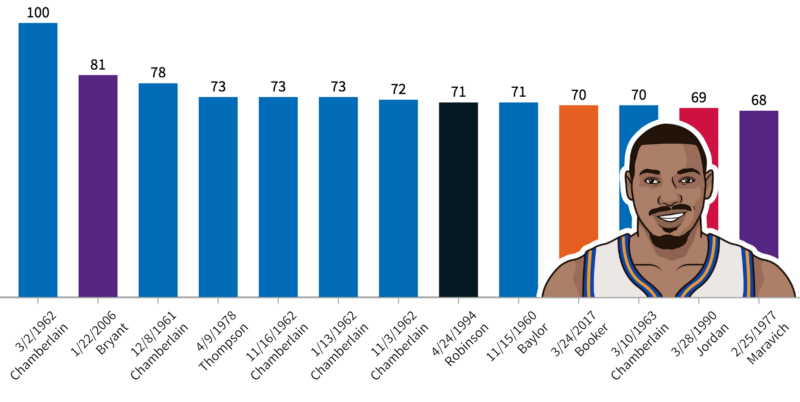 The greatest scoring performance in NBA history was not without its fair share of shenanigans. According to Warriors coach Frank McGuire, at the start of the game there was no plan to get Chamberlain 100 points. He scored 23 points in the first quarter and 18 points in the second quarter for a total of 41 at halftime. During the break, Warriors point guard Guy Rodgers reportedly said "Let's get the ball to Dip [Chamberlain's nickname was "The Big Dipper]. Let's see how many he can get."
Chamberlain responded with 28 points in the third quarter, lifting his total for the game to 69. The Warriors, up 19 points, tried to get the ball to Chamberlain on almost every possession in the fourth quarter. The Knicks started intentionally fouling any Warrior except Chamberlain with about six minutes remaining in order to stop him from reaching 100. They also tried to bleed the shot clock on almost every possession. With about four minutes remaining, the Warriors took a page from the Knicks' book and started fouling intentionally in order to get the ball back. Chamberlain scored 31 points in the fourth quarter, giving him an even 100 for the game.
Players on both Chamberlain's Warriors and the opposing Knicks did everything in their power to influence the outcome, with the former bending over backwards to get him the ball and the latter resulting to desperate fouls and stalling to keep it away from him. Even the public address announcer reciting Wilt's total after each basket influenced the players' mindset and behavior. It's an incredible accomplishment that will likely never be topped, but Wilt didn't get to 100 without a bit of shadiness from all involved.
Ricky Davis Scale: Chad — Three, Justin — Two
The 1977–78 Scoring Title Race: Gervin vs. Thompson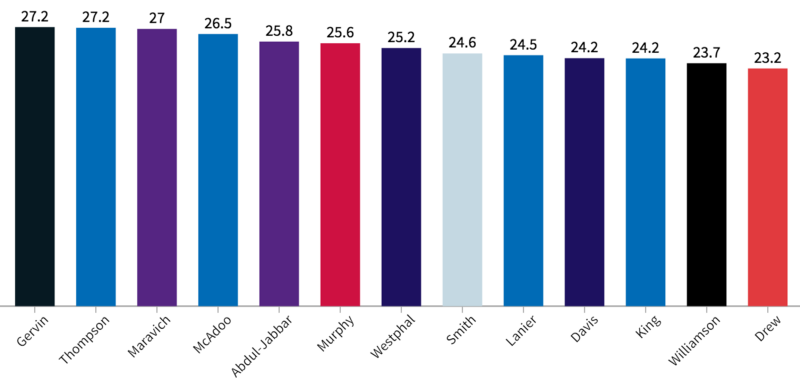 George Gervin led David Thompson by 0.2 PPG on the last day of the season, but Thompson erased the deficit with a 73-point performance that included an NBA record 32-point quarter. Gervin, who played later that day, heard of Thompson's feat and knew he needed at least 58 points to pull back ahead, so his Spurs teammates did everything they could to feed him the ball, resulting in a 63-point outburst that included a 33-point quarter, breaking Thompson's hours-old record. Gervin won by 0.07 PPG in the closest scoring title race in NBA history.
While the Spurs admittedly tried everything they could to help Gervin win the scoring title, there didn't appear to be any actions that altered normal game play. There were no shady fouls, timeouts or the like, just a lot of predetermined intent.
Ricky Davis Scale: Chad — Two (Changed to One), Justin — One
The 1993–94 Scoring Title Race: Robinson vs. O'Neal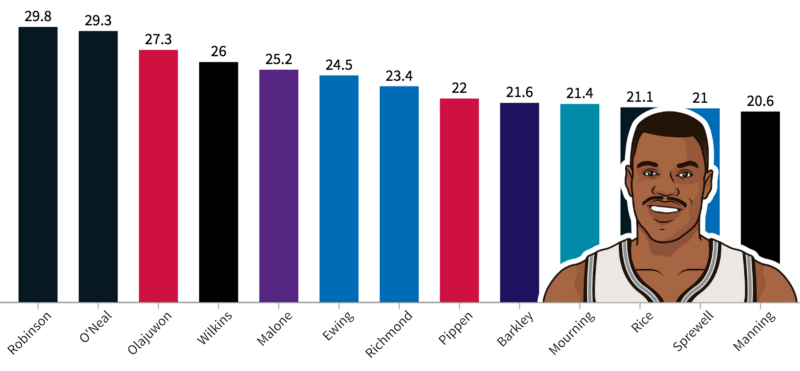 Fast forward 16 years and another Spurs legend is locked in a scoring title battle that came down to the last day of the season. Shaquille O'Neal held a narrow edge (29.31 PPG to 29.27 PPG) over David Robinson, but with the season finale essentially meaningless, the Spurs decided to do everything they could to help Robinson win the title.
The Clippers, their opponent, did everything they could to stop Robinson, often double and triple-teaming him. They even held the ball to milk the clock late in the fourth quarter. This didn't please their fans, who actually booed the home team. Spurs coach John Lucas got revenge by ordering his players to intentionally foul in the final minute of the game even though the Spurs held a 20-point lead. The plan was to get Robinson a few more opportunities, and he cashed in by scoring an additional seven points in the final minute of play. The strategy worked as the Admiral finished with 71 points (at the time he was only the fourth player to ever reach that mark) and narrowly beat O'Neal for the title. Shaq's coach in Orlando was none too happy about it and shared his thoughts (as recorded by the San Antonio Express News):
"We certainly wanted Shaquille to win the title. But we didn't make a mockery of the game like they did in Los Angeles." — Brian Hill
Robinson deserves all the credit in the world for his monster game, but he definitely benefitted from some game engineering along the way.
Ricky Davis Scale: Chad — Two, Justin — Two
Kobe Bryant's 81-point Game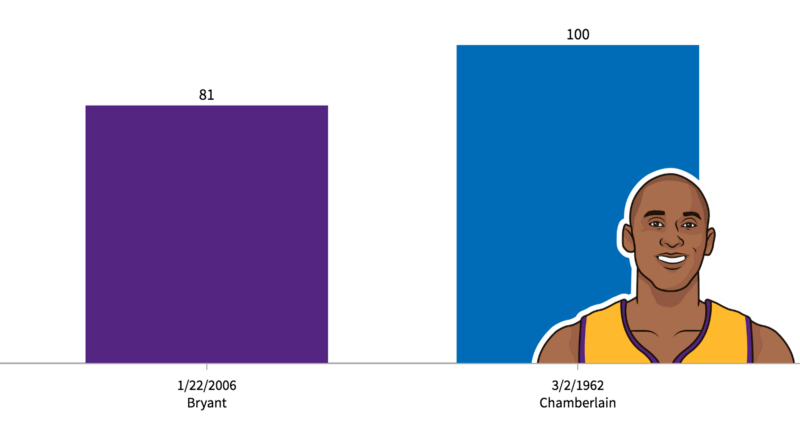 Even Kobe's biggest detractors (i.e. Justin Kubatko) struggle to find fault in this epic performance. There's no evidence of the game being manipulated in any way, the Mamba simply exploded. The Raptors, the opposing team that night, were even winning for most of the game, as then head coach Sam Mitchell later used as an excuse for why he didn't throw everything he had at Kobe in a desperate attempt to deter his scoring:
Mitchell's so-called "strategy" didn't work as Kobe's epic performance helped earn a win for the Lakers and secure his spot in basketball immortality.
Ricky Davis Scale: ZERO
Kobe Bryant's 60-Point Final Game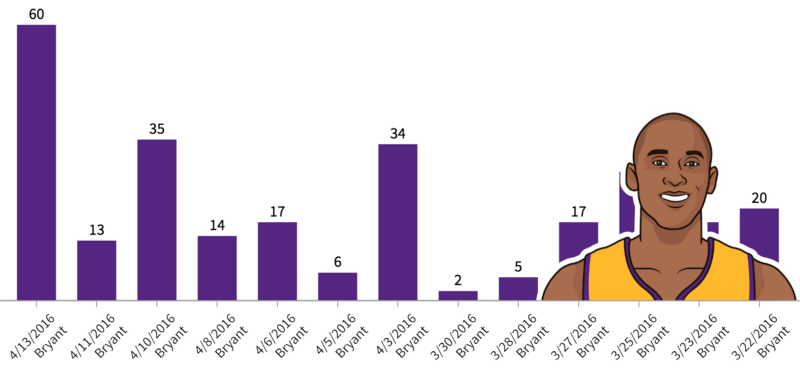 There's really no question what happened in Kobe's last night in Staples Center. He knew he was going to shoot the ball every time he touched it. Some may argue that this is what he did for his entire career, but he was on another level in his final game, attempting 50 field goals — the most by a player in almost 50 years — and he wasn't too efficient with them as his 44 percent field goal percentage is the second-lowest by a player in a 60-point game.
Still, he scored 13 unanswered points in the final two minutes, rallying the Lakers from a 10-point deficit to win the game. There's no real evidence of collusion to get him that many points other than footage of Kobe dribbling head-down and playing one-on-one against his defender with no visible indications that he was even attempting to look for his teammates. There was definitely some manipulation of typical game norms, but it was just a case of Kobe going out with the Kobe-est game possible.
Ricky Davis Scale: Chad — One, Justin — One
Devin Booker's 70-point Game
Isaiah Thomas was absolutely correct in criticizing the Suns' methods of getting Booker up to 70 points. It was intentional and outside the realm of normal game play. However, he was dead wrong in saying nobody has seen anything like that before. Booker's achievement was undoubtedly aided by his team's manipulation, but it fell in line with a long tradition of high-scoring games. Sure, he got a little help; but so did Wilt, so did the Iceman and so did the Admiral. Nothing about how it went down should discount Booker's accomplishment. Plus, even Booker himself admitted what they were doing:
Ricky Davis Scale: Chad — Two, Justin — Two
Additional Stat Stories Episodes
Stat Stories: Episode 18 — The Triple-Double Bubble
Explaining the Recent Spike in Triple-Doublesblog.statmuse.com
Stat Stories: Episode 19 — The Big Shot
Buying Stock in the NBA's Best Young Playersblog.statmuse.com
Stat Stories: Episode 20 — The Defense Rests
Does Defense Really Win Championships?blog.statmuse.com
Stat Stories: Episode 21 — "E" Is For Efficiency
What Does It Mean to Be An Efficient Scorer and Why Does It Matter?blog.statmuse.com