What a month. The NBA and NHL playoffs kicked off, MLB games are clocking in under two hours, and bank bailouts and busts continue.
Oh, and by the way, our premium offering, StatMuse+, launches soon. Stay tuned for more details.
Let's dig in to this month's highlights.
Get The Muse Letter delivered straight to your inbox
MUSE MILESTONES
Biggest search month + biggest search day ever
StatMuse had a record 45 million searches in March, including our biggest single search day ever.

Stay in the know on all things StatMuse: https://t.co/CusQwWIj9W

— StatMuse (@statmuse) April 1, 2023
300+ Muse accounts with 360K+ combined followers on Twitter and counting. See them all here and follow your favorite team or players.
Fav Muse Family follows for April: @BronMuse, @SplashBrosMuse, @BlueJays_Muse
HIGHLIGHTS FROM THE MUSE NETWORK
The Muse Family
@MavsMuse Bleacher Report feature
All 3 Texas teams will miss the NBA playoffs for the first time in HISTORY 🤯

(h/t @MavsMuse) pic.twitter.com/mDFwJ28ung

— Bleacher Report (@BleacherReport) April 8, 2023
IQ X @KnicksMuse
April 9, 2023
Bulls follow @BullsMuse_ 🤝
😉

— Chicago Bulls (@chicagobulls) April 11, 2023
Spurs follow @Spurs_Muse 🤝
omg pic.twitter.com/vSK8E41oor

— Spurs_Muse (@spurs_muse) April 11, 2023
@BronMuse goes viral (again)
Most points scored in a single game by a player in their 20th season:

60 — Kobe Bryant
48 — LeBron James
47 — LeBron James
46 — LeBron James
43 — LeBron James
41 — LeBron James
39 — LeBron James
38 — LeBron James
38 — LeBron James
38 — Kobe Bryant
37 — LeBron James
37… pic.twitter.com/tvvQEfrXlt

— LeBron Muse (@BronMuse) April 10, 2023
60K for @WarriorsMuse
WE JUST REACHED 60,000 FOLLOWERS!!!!

THANK YOU #DUBNATION!! BEST FANS IN THE WORLD!!!

The Warriors are 1/1 in rings in the WarriorsMuse era 😏

LETS WIN THIS! pic.twitter.com/n3YwN3dREn

— WarriorsMuse (@WarriorsMuse) April 15, 2023
StatMuse
Blake Griffin shout
no contest… congrats malc! https://t.co/u3OKrZAu3z

— Blake Griffin (@blakegriffin23) April 12, 2023
KD X Kuz
Kd is having one of the greatest seasons I've ever seen 💐💐💐 https://t.co/MklK2fzah0

— kuz (@kylekuzma) April 7, 2023
Sabonis makes history
standing next to elite company 🏆 (h/t: @statmuse) pic.twitter.com/1mlMP37Nva

— Sacramento Kings (@SacramentoKings) April 3, 2023
Point Dinwiddie
…April fools? 🤣 https://t.co/3olnV1H2oO

— Spencer Dinwiddie (@SDinwiddie_25) April 1, 2023
TRENDING SEARCHES
See what StatMusers around the world are asking:
Top Searches
Global Sports Searches
Global Money Searches
Search stocks, FX, Bitcoin and more on statmuse.com/money
STATMUSE TOP TEN
10. Jabari makes history
The first rookie in NBA history with

1,000+ PTS
500+ REB
50+ BLK
100+ 3P pic.twitter.com/ONyMCLSNNj

— StatMuse (@statmuse) April 10, 2023
9. Playoff dominance
Chris Kreider in the playoffs:

5 goals (T-1st)
4 power play goals (1st)
2 game-winning goals (1st)

Rangers are up 2-1 vs the Devils. pic.twitter.com/I9WK9phwAl

— StatMuse (@statmuse) April 24, 2023
8. Clutch Player of the Year
De'Aaron Fox this season:

— 1st in clutch points
— 52.9 FG% in the clutch
— 1st in 4th quarter buckets
— Most clutch points (194) since 2018 LeBron

1st Clutch Player of the Year in NBA history. pic.twitter.com/VBdoHdAwkS

— StatMuse (@statmuse) April 18, 2023
7. Best player in the league
Ohtani as a pitcher this season:

19.0 IP
0.47 ERA (1st in MLB)
11.37 K/9
0 HR allowed

Best player in the league. pic.twitter.com/dm5ZWtEJqR

— StatMuse (@statmuse) April 15, 2023
6. Elite company
Players with more than three 30-point playoff games before turning 22:

— Kobe
— LeBron

And now, Anthony Edwards. pic.twitter.com/NLO0JiiugZ

— StatMuse (@statmuse) April 22, 2023
5. Harden vs MVP Nash
Left is Harden this season. Right is Nash in his MVP seasons.

21.1 PPG 17.2 PPG
6.2 RPG 3.8 RPG
10.8 APG 11.0 APG
1.3 SPG 0.9 SPG pic.twitter.com/fU5AOaLyBr

— StatMuse (@statmuse) April 4, 2023
4. Westbrook takeover
Westbrook this playoffs:

More PPG than
— LeBron
— Davis
— Jokic
— Mitchell

More RPG than
— Horford
— Randle
— Jackson Jr
— Gordon

More APG than
— LeBron
— Conley
— Dejounte
— Garland

More BPG than
— Claxton
— Lopez
— Jackson Jr
— Gobert pic.twitter.com/nLmjpG0ZwV

— StatMuse (@statmuse) April 24, 2023
3. Ultimate playoff riser
Jamal Murray has more 40-point playoff games than

Devin Booker
Donovan Mitchell
Damian Lillard
Carmelo Anthony
Oscar Robertson
Karl Malone
Alex English
Kyrie Irving
Paul Pierce
DeMar DeRozan
Reggie Miller
Tim Duncan
Magic Johnson

Elite playoff riser. pic.twitter.com/5SfdmwKFNT

— StatMuse (@statmuse) April 20, 2023
2. Still King 👑
LeBron in 45 minutes:

22 PTS
20 REB (career-high)
7 AST

He's only 38 years old. pic.twitter.com/QbZFBPpUJI

— StatMuse (@statmuse) April 25, 2023
1. Playoff Jimmy
Jimmy Butler in Game 4:

56 PTS (franchise record)
9 REB
19-28 FG

First player with a 50-point playoff game since Giannis in the Finals. pic.twitter.com/5cKDdTPj08

— StatMuse (@statmuse) April 25, 2023
FUN FACT
Fun Fact: Jonas Valanciunas has played in the most play-in tournament games all-time.

The only player with a play-in appearance every season. pic.twitter.com/NZcm9gsnvz

— StatMuse (@statmuse) April 11, 2023
JOIN THE NETWORK
Are you a world-class engineer or creative interested in joining the team at StatMuse? We're hiring. Send your project links or profiles to jobs@statmuse.com
Looking to contribute to The Muse Network? DM us @StatMuse or email us at themuse@statmuse.com
Interested in beta testing our next gen AI creative tools and new search domains? Email us at alpha@statmuse.com
THE STATMUSE SHOP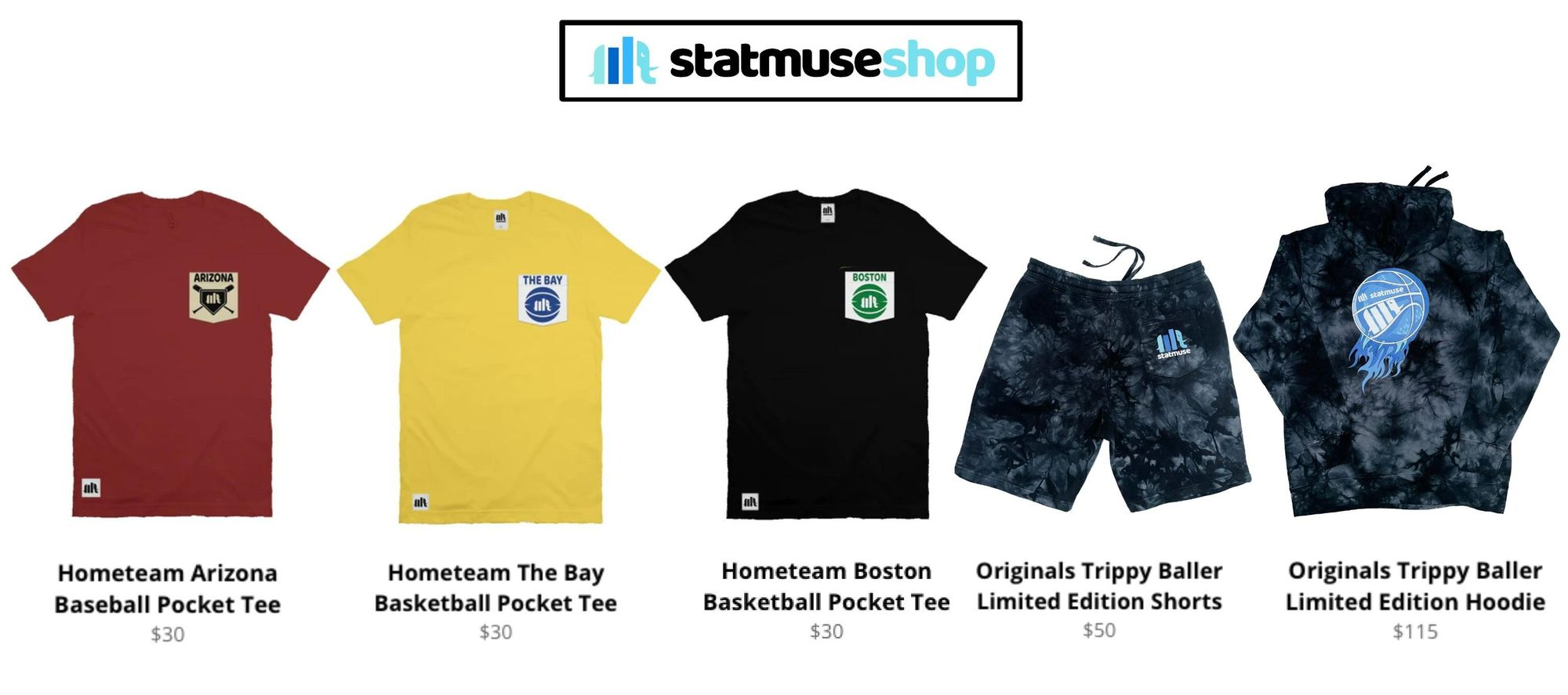 SHARE THE GOODS
Share The Muse Letter with someone you know. Get good karma.
Did someone share this with you? Sign up for The Muse Letter here.