February was another action-packed month. All-time NBA scoring records were broken, trades were made, and All-Star and Super Bowl MVPs were crowned.
Records continue to get broken at StatMuse, too: StatMusers around the world searched more times last month than in all of 2021 combined.
Feeling the love this Valentine's season. Let's dive in.
Get The Muse Letter delivered straight to your inbox
MUSE MILESTONES
First month with over 40M searches
Searches on https://t.co/SM2XABtUNU

All of 2021: 40.4 million
Jan 2023: 42.3 million

Cheers to all the StatMusers and Muse Family 🚀 pic.twitter.com/J2c2piezkW

— StatMuse (@statmuse) February 1, 2023
HIGHLIGHTS FROM THE MUSE NETWORK
The Muse Family
@HoopMuse Bleacher Report feature
Kevin Durant in Loss tonight:

44 PTS
5 AST
4 REB
2 BLK
1 STL
15/22 FG
5/10 3PT
9/9 FT

Snaps a 12-game win streak for Nets pic.twitter.com/4Ng7NkZXvM

— Hoop Muse (@HoopMuse) January 5, 2023
@Dame_Muse gets the Dame follow
DAMIAN LILLARD JUST FOLLOWED ME!!!

— Dame Muse (@Dame_Muse) February 16, 2023
Kuzma X @ExtraStatMuse
Oh yeah? https://t.co/4EmhF1lvXE

— kuz (@kylekuzma) February 21, 2023
StatMuse
Beam Team shout
the 𝐛 in 𝐛eam also stands for 𝐛uckets https://t.co/hUbyhivyFG

— Sacramento Kings (@SacramentoKings) February 7, 2023
More Bobby Portis love
Curry. https://t.co/72qvZI3Jon

— Bobby BP Portis (@BPortistime) February 13, 2023
Cam Thomas Overtime shout
WHAT A NIGHT CAM THOMAS.

47 PTS
15/29 FG
7/11 3PM

Youngest player since LeBron with back-to-back 40-PT games 🤯

(per @statmuse) pic.twitter.com/dGcpObNPt2

— Overtime (@overtime) February 7, 2023
TRENDING SEARCHES
See what StatMusers around the world are asking:
Top Searches
Global Sports Searches
Global Money Searches
Search stocks, FX, Bitcoin and more on statmuse.com/money
STATMUSE TOP TEN
10. Ant Man takes over
Anthony Edwards is top 10 this season in

Points
Steals
Field Goals
Three-pointers
25-point games

He's only 21. pic.twitter.com/x9NoZ2kqRe

— StatMuse (@statmuse) February 17, 2023
9. All-Star snub?
Left is an All-Star. Right isn't an All-Star.

16.5 PPG 26.8 PPG
6.7 RPG 11.9 RPG
3.3 BPG 2.0 BPG
50.1 FG% 58.3 FG%
945 MIN 933 MIN pic.twitter.com/rpdn0drWaM

— StatMuse (@statmuse) February 3, 2023
8. Giannis keeps making history
Players are shooting 41% when defended by Giannis this season, the best mark by a defender with 500+ shots defended.

He's doing this while putting up the first 30/10/5 season on 50% shooting since Wilt. pic.twitter.com/josCy5xNiL

— StatMuse (@statmuse) February 15, 2023
7. Clutch player of the year?
De'Aaron Fox has the same amount of clutch buckets this season as

Kevin Durant
Ja Morant
James Harden
Devin Booker

combined. pic.twitter.com/8JSHf6AhT9

— StatMuse (@statmuse) February 13, 2023
6. The GOATs at age 38
In their 38-year-old season:

LeBron — Jordan —
30.2 PPG 22.9 PPG
8.5 RPG 5.7 RPG
7.1 APG 5.2 APG
50.5 FG% 41.6 FG% pic.twitter.com/LQJpua0BlE

— StatMuse (@statmuse) February 1, 2023
5. All-Star MVP
Jayson Tatum tonight:

55 PTS
10 REB
6 AST
22-31 FG
10-18 3P

Most points ever in an All-Star game. Only Steph has made more 3s in an All-Star game. pic.twitter.com/7OWcxftOqq

— StatMuse (@statmuse) February 20, 2023
4. The Iron Man
Mikal Bridges has never missed a game in his college and NBA career.

He's on track to play 83 games this season. pic.twitter.com/nZaVuUqpOM

— StatMuse (@statmuse) February 11, 2023
3. Super Bowl MVP
Mahomes tonight:

21/27
182 YDS
3 TD

Champion. pic.twitter.com/nQqW18kEqk

— StatMuse (@statmuse) February 13, 2023
2. The greatest rivalry in sports
Trades broken this week:

11 — Woj
10 — Shams pic.twitter.com/r9EspJAIiQ

— StatMuse (@statmuse) February 9, 2023
1. The King gets the 👑
Fun fact: LeBron breaks the all-time scoring record on 2/7/23.

His career PPG at this very moment?

27.23. pic.twitter.com/UMN6YOpxAG

— StatMuse (@statmuse) February 8, 2023
FUN FACT
Fun Fact: Mikal Bridges has the same number of 45-point games as Kyrie and KD this season. pic.twitter.com/xxZZfMM0Pn

— StatMuse (@statmuse) February 16, 2023
JOIN THE NETWORK
Are you a world-class engineer or creative interested in joining the team at StatMuse? We're hiring. Send your project links or profiles to jobs@statmuse.com
Looking to contribute to The Muse Network? DM us @StatMuse or email us at themuse@statmuse.com
Interested in beta testing our next gen AI creative tools and new search domains? Email us at alpha@statmuse.com
THE STATMUSE SHOP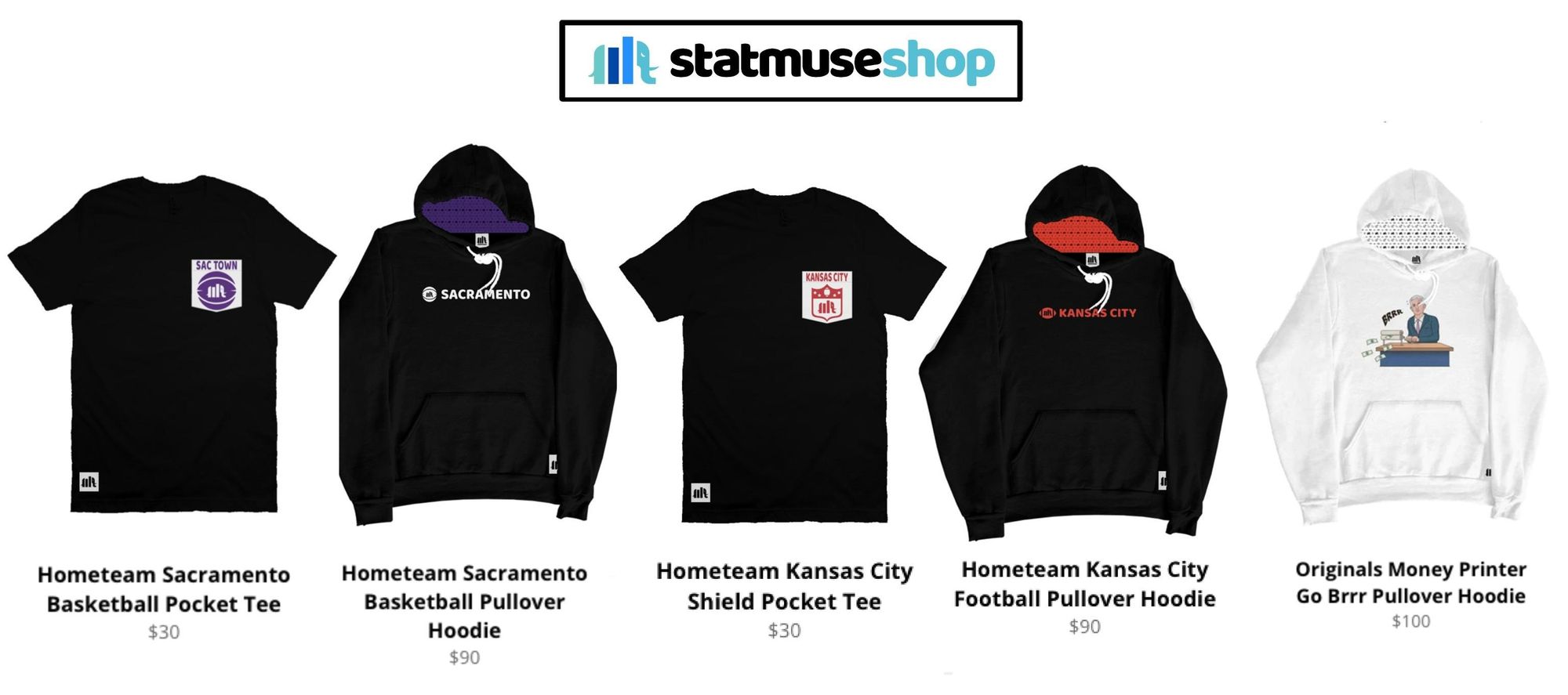 SHARE THE GOODS
Share The Muse Letter with someone you know. Get good karma.
Did someone share this with you? Sign up for The Muse Letter here.