Happy 2023, StatMusers!
The new year has been off to a hot start. StatMusers around the world continue to search stats at record pace, the Muse Family continues to grow, players and currencies continue to shatter expectations (for better and worse,  respectively), and the product team is hard at work taking the StatMuse experience to the next level.
Thanks for tuning in. Let's dig in.
Get The Muse Letter delivered straight to your inbox
MUSE MILESTONES
HIGHLIGHTS FROM THE MUSE NETWORK
The Muse Family
First NHL account with 1k followers
We did it, 1,000 followers. First NHL Muse to do so, might I add

Truly appreciate all of you, and I have some people I have to thank in particular, so continue below pic.twitter.com/DEOsR3weu1

— RangersMuse (@nyrangersmuse) January 15, 2023
@Spurs_Muse Jeremy Sochan tweet
Jeremy Sochan's stats by hair color. ⬇️

Lavender 💜:
5.8 PPG | 4.8 RPG | 1.3 APG

Silver/White 🤍:
7.6 PPG | 2.7 RPG | 1.7 APG

Pink 💖:
9.4 PPG | 4.8 RPG | 2.6 APG

Green 💚:
12.1 PPG | 6.3 RPG | 3 APG@statmuse we gotta work on that illustration 🔜 pic.twitter.com/12LT5Ye6LC

— Spurs_Muse (@spurs_muse) January 4, 2023
@PistonsMuse watches the Pistons in Paris
Amazing story! Thankful to have you as a fan❤️💙

— Detroit Pistons (@DetroitPistons) January 21, 2023
StatMuse
Pacers shout
most PPG by a player off the bench. EVER.

h/t @statmuse pic.twitter.com/ziZ7w76SxJ

— Indiana Pacers (@Pacers) January 18, 2023
FIBA!
Nets shout
Bobby Portis sixth man of the year push
He's no sleeper.

🗣 6MOTY. https://t.co/gOEewEzq6I pic.twitter.com/0PkRAbvmie

— Milwaukee Bucks (@Bucks) January 2, 2023
Nuggets shout
Don't believe them? Check out this link and see for yourselves 😄

🗳 https://t.co/lBETGuC2d0 https://t.co/KdmoSBcVrv

— Denver Nuggets (@nuggets) January 6, 2023
STATMUSE TOP TEN STAT STORIES OF THE MONTH
10. SGA & PG since the trade
Since the Paul George trade:

23.7 PPG 23.1 PPG
5.2 RPG 6.3 RPG
4.9 APG 4.9 APG
200 games 163 games pic.twitter.com/qhYXz8lSyx

— StatMuse (@statmuse) January 15, 2023
9. Mr. Triple-Double
Russell Westbrook:

— Most triple-doubles all-time
— Most triple-doubles off the bench all-time

Mr. Triple-Double. pic.twitter.com/TkTvAccBfd

— StatMuse (@statmuse) January 16, 2023
8. Jokic 3-peat?
Players with a 35-point triple-double on 90 FG% in NBA history:

— Wilt Chamberlain
— Nikola Jokic

Jokic is the first player to do it twice. pic.twitter.com/yg1MAP0TE6

— StatMuse (@statmuse) January 18, 2023
7. Sabonis All-Star season?
Players with 15/12/6 on 50 FG% in a season:

— Jokic (MVP season)
— KG (MVP runner-up)
— Wilt (MVP season)

And now, Domantas Sabonis. pic.twitter.com/Q48tI5NWx6

— StatMuse (@statmuse) January 13, 2023
6. Celtics keep dominating
Celtics this season:

1st in the East
1st in the NBA
1st in offensive rating
1st in net rating
2nd in total threes
2nd in points per game

The only team with 30+ wins. pic.twitter.com/2VjdlCpJfu

— StatMuse (@statmuse) January 13, 2023
5. Harden hits 100
Most 30p/10a games over the past 40 seasons:

100 — Harden
95 — LeBron
83 — Westbrook
[gap]
57 — Trae pic.twitter.com/ojLiBZdAow

— StatMuse (@statmuse) January 15, 2023
4. Greatest old guy in NBA history
LeBron since turning 38 years old:

37.0 PPG
9.7 RPG
8.6 APG

Leading the league in PPG + RPG + APG in that stretch. pic.twitter.com/00NN584xHt

— StatMuse (@statmuse) January 17, 2023
3. Can Mathurin win 6MOTY and ROY?
Fun Fact: Bennedict Mathurin is averaging the most PPG (17.5) off the bench all-time (minimum 30 games). pic.twitter.com/pNzZp5Ki0I

— StatMuse (@statmuse) January 16, 2023
2. Donovan Mitchell breakout season
Left is Donovan Mitchell this season. Right is MVP Kobe.

29.3 PPG 28.3 PPG
4.8 RPG 6.3 RPG
1.5 SPG 1.8 SPG
49/40/88% 46/36/84% pic.twitter.com/4ZiOKHiv8s

— StatMuse (@statmuse) January 11, 2023
1. Spida makes history
The first 70p/10a game in NBA history. pic.twitter.com/w98wXEHPh1

— StatMuse (@statmuse) January 3, 2023
TRENDING SEARCHES
See what StatMusers around the world are asking:
Top Searches
Global Sports Searches
Global Money Searches
Search stocks, FX, Bitcoin and more on statmuse.com/money
Fun Fact
Fun Fact: Steph Curry and Seth Curry are both shooting over 42% from 3 this season.

But Damion Lee, their brother in law, is leading the league at 47.7 3P%. pic.twitter.com/la1IAonQlv

— StatMuse (@statmuse) January 11, 2023
JOIN THE NETWORK
Are you a world-class engineer or creative interested in joining the team at StatMuse? We're hiring. Send your project links or profiles to jobs@statmuse.com
Looking to contribute to The Muse Network? DM us @StatMuse or email us at themuse@statmuse.com
Interested in beta testing our next gen AI creative tools and new search domains? Email us at alpha@statmuse.com
THE STATMUSE SHOP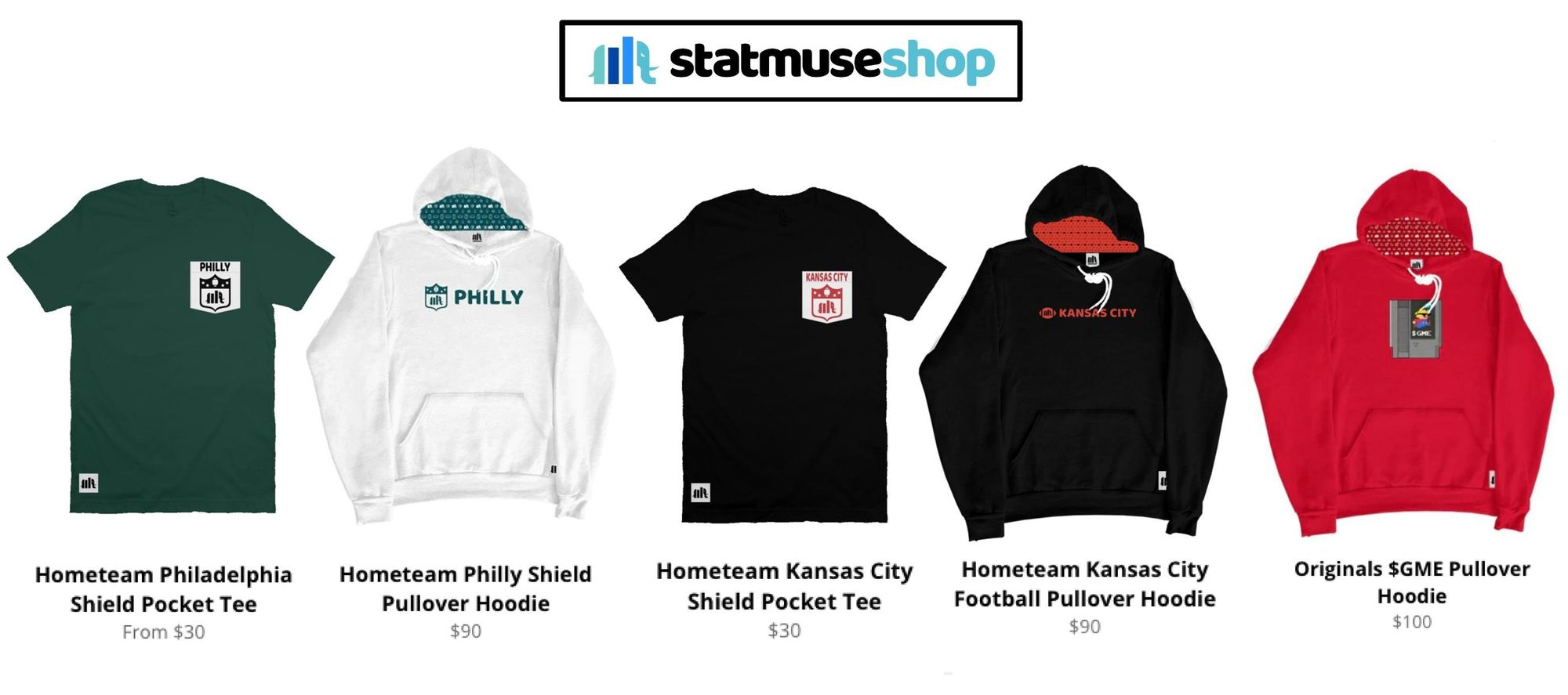 SHARE THE GOODS
Share The Muse Letter with someone you know. Get good karma.
Did someone share this with you? Sign up for The Muse Letter here.