Expert Fantasy Projections, Comparisons, Recommendations and History Exclusively on Alexa Devices

Player Outlooks and Projections Examples
What is your projection for Odell Beckham, Jr.?
Give me your projection for Davante Adams.
Where do you rank Matt Ryan?
Tell me about Deshaun Watson.
How will Kyler Murray do?
Is Chris Carson a good pick?
What are your thoughts on Tom Brady this season?
Should I pick Ezekiel Elliott?
What is your outlook for Le'Veon Bell this season?

How do you feel about Damien Williams?
Where should I draft Latavius Murray?
What's your take on Melvin Gordon?
How early should I draft Amari Cooper?
What do you think about Delanie Walker?
Is Patrick Mahomes worth the hype?
Will Jared Goff be a good fantasy quarterback?
Who is the top-ranked tight end?
Who will be the best fantasy wide receiver this year?
Who is the 10th ranked running back this season?
How will the Vikings defense do this year?
Is the Texans defense a good fantasy pick?
Will A.J. Green be a factor this season?
Will Golden Tate be a worthwhile pick?
Is Julian Edleman a top 10 receiver?
Should anyone bother drafting Kareem Hunt?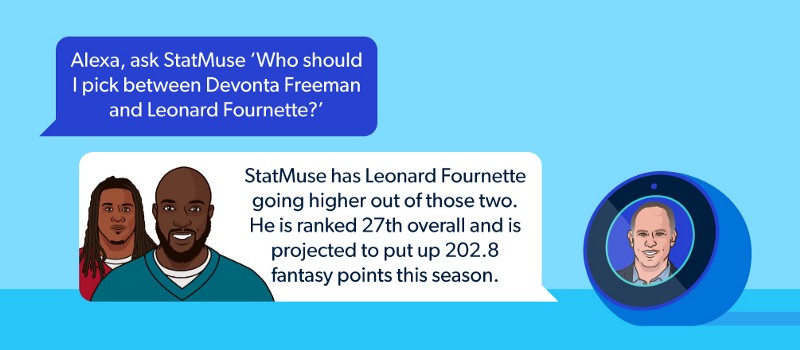 Player Comparisons Examples
Who should I pick between Devonta Freeman and Leonard Fournette?
Should I draft Alvin Kamara or Saquon Barkley?
Who would you draft out of Antonio Brown, Mike Evans and T.Y. Hilton?
Would you take Todd Gurley or Derrick Henry?
Jameis Winston, Dak Prescott or Philip Rivers?
O.J. Howard, Delanie Walker, Jimmy Graham or Evan Engram?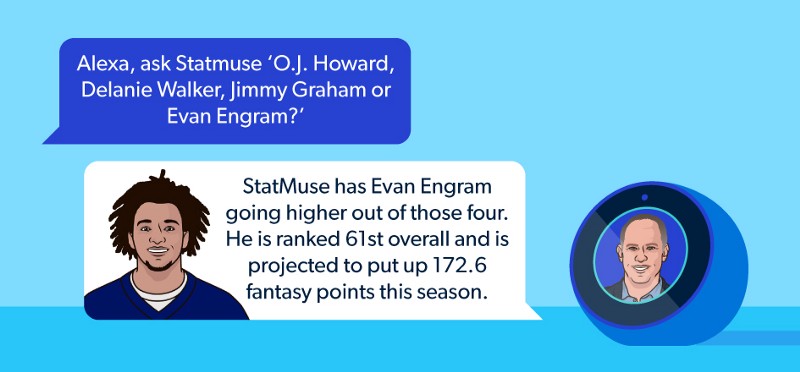 Who should I take from Robert Woods and Chris Godwin?
Would you take Cam Newton, Curtis Samuel or Lamar Miller?
Should I draft the Ravens defense or the Vikings defense?
Pick one between Drew Brees and Carson Wentz.
Phillip Lindsay or Royce Freeman?
Should I take DeSean Jackson or Lamar Jackson?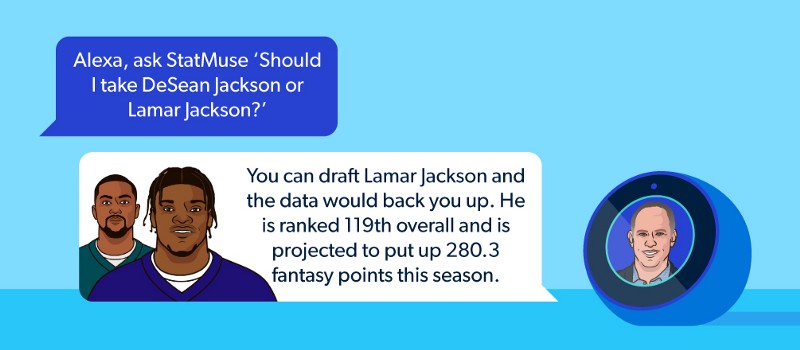 Mark Ingram or Kenyan Drake?
Chris Carson, Tyler Boyd or Baker Mayfield?
James White, Larry Fitzgerald, Jared Cook or Kirk Cousins?
Geronimo Allison or Marquez Valdes-Scantling?
JuJu or Tyreek?
Diggs or Thielen?
Chubb or McCaffrey or Bell?
Rams or Jags?

Historical Fantasy Stats Examples
Who scored the most fantasy points last season?
Which running back averaged the most fantasy points per game last season?
Who has the most fantasy points per game in a season?
Which tight end scored the most fantasy points last season?
How many fantasy points per game did David Johnson score last year?
Which team defense scored the fewest fantasy points in 2018?
What are the most fantasy points in a season by Russell Wilson?
For any questions or help, email help@statmuse.com or Tweet to @statmuse.