Expert Fantasy Projections, Comparisons, Recommendations and History Exclusively on Alexa
StatMuse is ready to meet all your fantasy football needs on Alexa with the Matthew Berry skill. Get season-long fantasy questions answered by ESPN's Senior Fantasy Analyst Matthew Berry himself — including up-to-the-minute stat projections, rankings and comparisons to help you set your lineup, make roster moves and bring home a trophy. 🏆
Get started by saying "Alexa, talk with Matthew Berry." to open the skill.
"Alexa, talk with Matthew Berry."
Or, you can begin a question with "Alexa, ask Matthew Berry…" and get the answers you need to manage a championship team.
"Alexa, ask Matthew Berry…"
Player Outlook and Projections Examples

What is your projection for Ezekiel Elliott this week?
What is your outlook for Odell Beckham, Jr.?
What do you think about Baker Mayfield this week?
What are your thoughts on Tom Brady?
How will the Vikings defense do this week?
What is your projection for Amari Cooper this week?
How many fantasy points will Delanie Walker put up this week?
How many fantasy points will Latavius Murray score?
Roster Management Examples
Draft Examples (Preseason Only)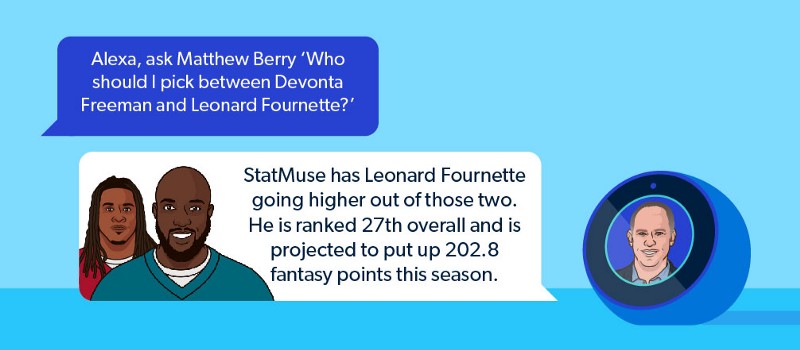 Should I pick Devonta Freeman or Leonard Fournette?
Should I draft Antonio Brown or T.Y. Hilton?
Would you take Todd Gurley or Derrick Henry?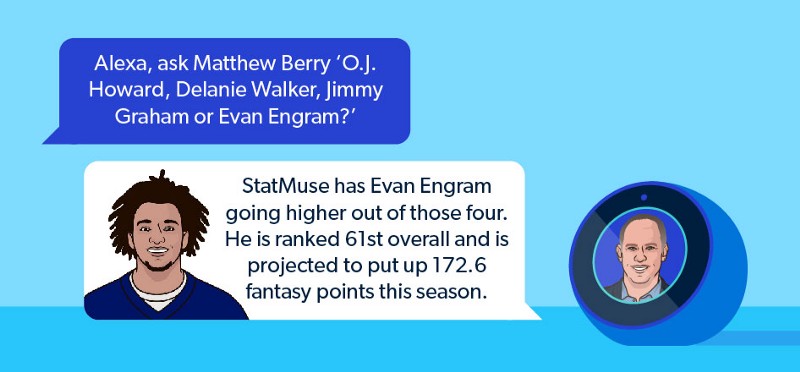 O.J. Howard, Evan Engram, Delanie Walker or Jimmy Graham?
Will A.J. Green be a factor this season?
JuJu or Tyreek?
Start/Sit Examples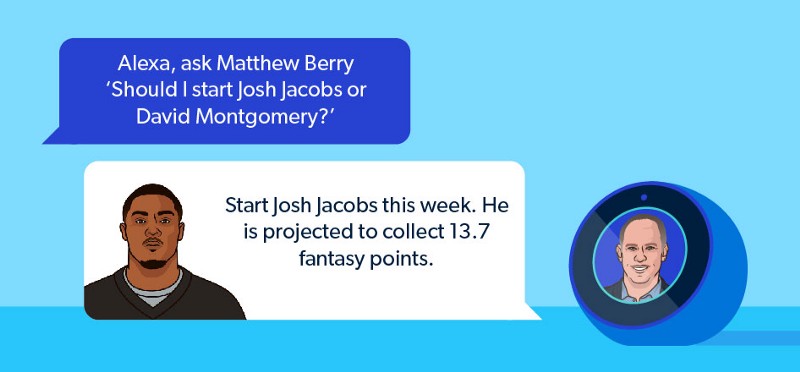 Should I start Josh Jacobs or David Montgomery?
Should I sit Jameis Winston or Dak Prescott?
Should I go with Mark Ingram or Kenyan Drake as my flex?
Pick one out of Kenny Golladay and John Ross.
Pick one from Tyler Lockett, Corey Davis or Tevin Coleman.
Who do you like out of Tyler Boyd or Sammy Watkins?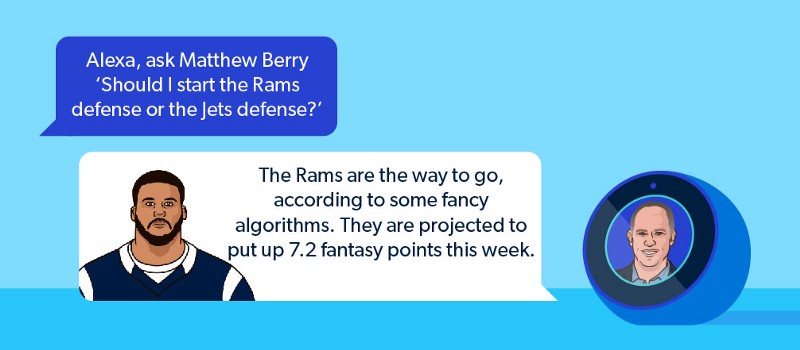 Should I start the Rams defense or the Jets defense?
Which defense should I go with — the Chargers or the Lions?
Titans or Texans?
Add/Drop Examples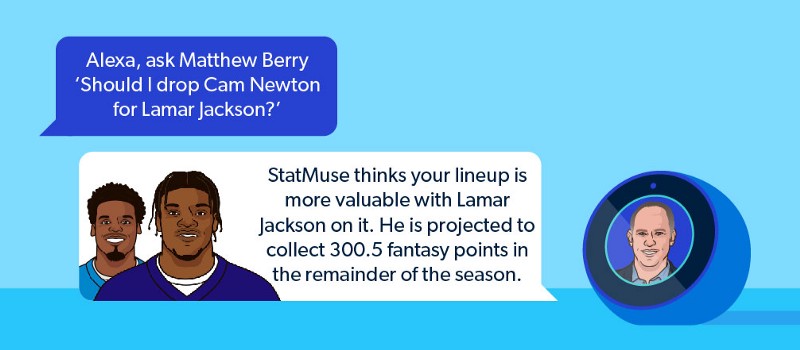 Would you drop Cam Newton to add Lamar Jackson?
Do you recommend adding Josh Allen and dropping Kirk Cousins?
Should I add Carlos Hyde and drop Jordan Howard?
Is it a good idea to add Frank Gore and drop Allen Robinson?
Should I pick up Royce Freeman and drop Phillip Lindsey?
Trade Examples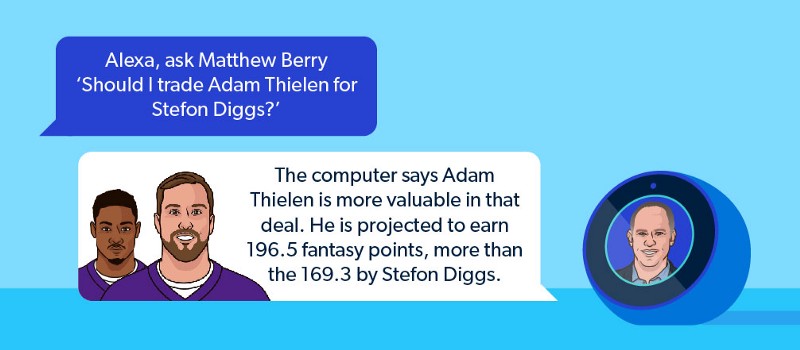 Should I trade Adam Thielen for Stefon Diggs?
Should I swap Kyler Murray for Carson Wentz?
Is it a good idea to trade Zach Ertz for Le'Veon Bell?
Would you take Josh Gordon for A.J. Green?
Would you rather have Aaron Jones or Todd Gurley?
Should I trade the Bills defense for the Colts defense?
Status Update Examples*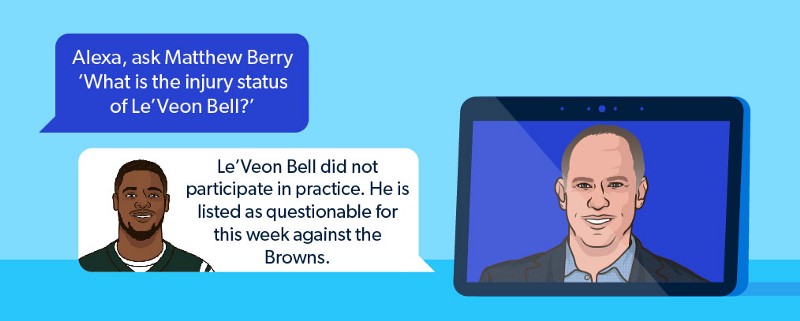 What is the injury status of Le'Veon Bell?
What's the status of Drew Brees?
Did DeSean Jackson practice this week?
How did James Conner do this week?
How many fantasy points did Jacoby Brissett score?
*Weekly injury statuses and practice updates available after teams have released their official reports
Bye Weeks Examples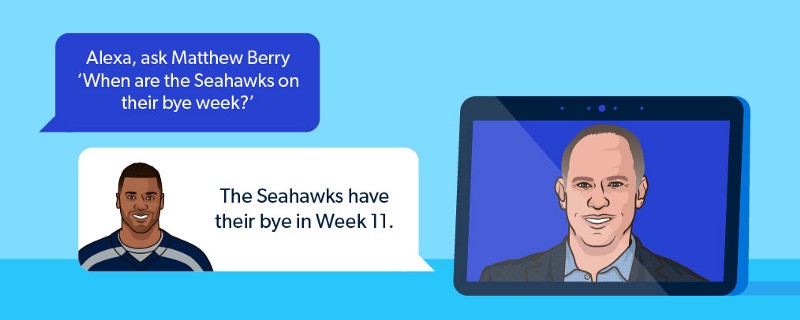 When is Russell Wilson's bye week?
When are the Texans on their bye week?
Historical Fantasy Stats Examples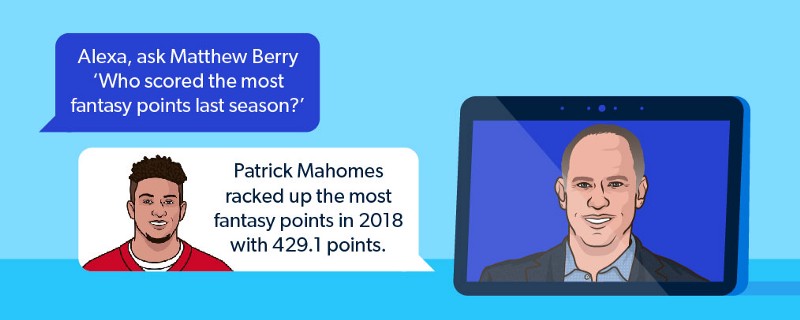 Who scored the most fantasy points last season?
Which Chiefs wide receiver has the most receptions so far this season?
Which running back averaged the most fantasy points per game last season?

How did O.B.J. do last week?
Who has the most fantasy points per game in a season?
Which tight end scored the most fantasy points last season?
Which team defense scored the fewest fantasy points in 2018?
What are the most fantasy points in a season by Aaron Rodgers?
All-Access Premium Subscription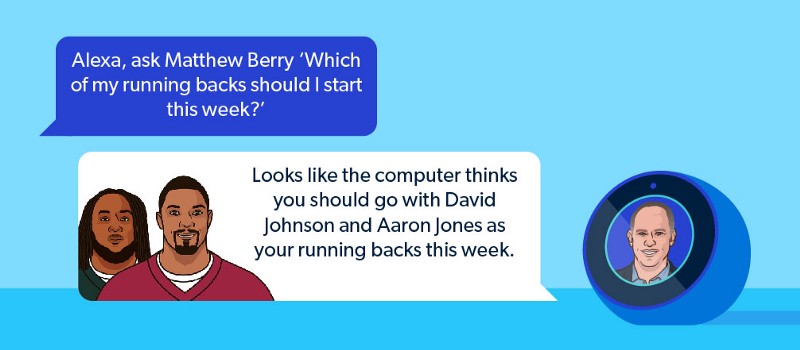 Take the next step toward a fantasy championship and get customized advice and updates tailored to your actual fantasy team. As a subscriber ($14.99 annually, or $12.00 for Prime members), you can tell Matthew Berry your roster to get automatic status reports, detailed matchup info and have every question answered based on the lineup you already have. Simply ask something like "Who should I start at running back this week?" or "Who should I drop in order to add Daniel Jones?" and get an answer that takes into account the players you have and their outlooks for both the week at hand and the rest of the season.
Who should I start in my Flex spot this week?
Who should I drop to pick up Jameis Winston?
What are the latest updates for my players?
Join Matthew Berry All-Access by saying "upgrade" or "subscribe" while using the skill.
For any questions or help, email help@statmuse.com or Tweet to @statmuse.
Please rate and review the skill after you've used it to dominate your competition!